Singapore Airlines (SIA) wants to continue adding capacity on its path to rebuild its network, but faces regulatory constraints for resuming services to some countries.
China is the country where SIA faces the most notable entry constraints, but there are others as well, says Lee Lik Hsin, the carrier's executive vice president, commercial.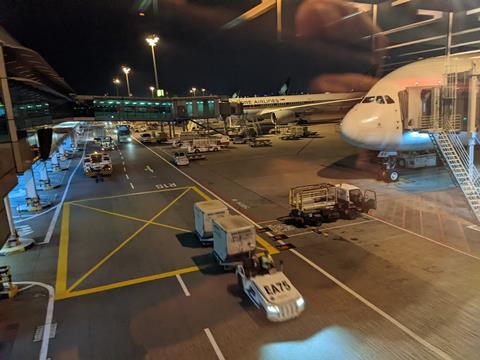 "China is one geographic region, and there are others like that as well, where we may not be able to add as many flights as we want," he says, without elaborating further.
Lee made the remarks during an analysts presentation following the release of SIA's half-year results for its 2022/23 financial year, covering the six months ended 30 September. The carrier posted a record operating profit during the period following governments' lifting of travel restrictions related to the coronavirus pandemic.
Still, the SIA Group was able to beef up its China network in the second quarter, including SIA's addition of twice-weekly services to Beijing and weekly services to Shenzhen. Scoot also resumed weekly flights to Fuzhou, and increased frequencies to Nanjing to twice weekly.
October 2022 also saw SIA return to Chengdu and Xiamen, while Scoot re-introduced flights to Hangzhou, Wuhan and Zhengzhou. Moving forward, SIA and Scoot will add frequencies to build out the China network.
Despite this progress, SIA and Scoot have some way to go before the China network returns to pre-pandemic days. Cirium schedules data suggests that the pair will operate just 137 flights to China in November, down from the 1,278 flights operated in November 2019, before Covid-19 emerged in Wuhan. On China routes, the carriers will offer 87.9% fewer ASKs in November 2022 than in November 2019.
In line with the uncompromising 'zero-Covid' policy of Chinese president Xi Jinping, China still imposes tough quarantines on arriving passengers.
SIA chief executive Goh Choon Phong, speaking virtually at the presentation because he is recovering from Covid-19, adds that discussions continue with Tata Group about a potential merger between Vistara and Air India.
He declined, however, to discuss details. On 13 October, SIA had confirmed talks were ongoing with Tata about Air India and Vistara.
Still, he sounded an optimistic note about Vistara, in which SIA owns 49% and Air India 51%. He notes that without Vistara, it would have been impossible for SIA to have access to India's vibrant domestic air travel market.
More broadly, he said that SIA remains open to the idea of overseas opportunities, despite the closure of its Thailand NokScoot joint venture in 2020. Goh maintains that overseas partnerships can benefit both SIA and its Singapore hub.
Separately, SIA has announced that has resumed code sharing with Virgin Australia. Virgin Australia will place its code on SIA flights to 42 destinations, while SIA will place its code on 64 Virgin domestic routes in Australia.
More codeshare flights will be added subject to regulatory approval.