Middle Eastern carriers Saudia and Gulf Air are to enter a co-operation agreement which will include a codeshare between the two airlines.
The codeshare will take effect during the summer schedule.
Saudia says the tie-up will involve placing its 'SV' designator on Gulf Air's services from Bahrain to Riyadh and Jeddah, plus the routes to Tbilisi, Sialkot, Faisalabad, Baku and Multan.
In turn, Gulf Air's designator 'GF' will be carried on Saudia's flights from Riyadh and Jeddah to Bahrain, as well as the Saudi cities of Abha, Jizan, Yanbu, Al Jouf and Hail, and the Tunisian capital Tunis.
"Both airlines have a long history of partnership, in which this expanded codeshare agreement further enhances connectivity, convenience and flexibility for travellers," says Saudia chief Ibrahim Koshy.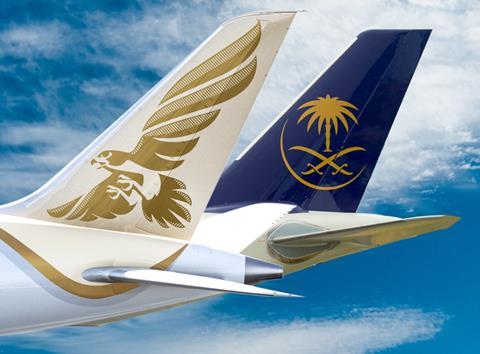 The two sides' relationship has "always been strong on many fronts", adds Gulf Air acting chief Waleed AlAlawi, and the airlines have been holding discussions on expanding their commercial links.
Gulf Air says the codeshare will provide "seamless travel options" and "wider choices" of destinations both within Saudi Arabia and internationally.
Each carrier will also co-operate with the other's loyalty programmes on the routes covered by the codeshare. Saudia is a SkyTeam alliance member while Gulf Air is not allied.