Spanish long-haul start-up carrier World2Fly has taken delivery of its first Airbus A350-900, through US-based lessor Air Lease.
The aircraft (EC-NOI) is the first of two A350s which Air Lease will hand over to the carrier.
World2Fly is based in Palma de Mallorca and was established last year.
"We aspire to be an international benchmark in sustainable transport, innovative, a leader in quality," it says.
World2Fly lists several transatlantic routes to holiday resorts including Havana, Cancun and Punta Cana from Madrid as well as services from Lisbon, among them Varadero.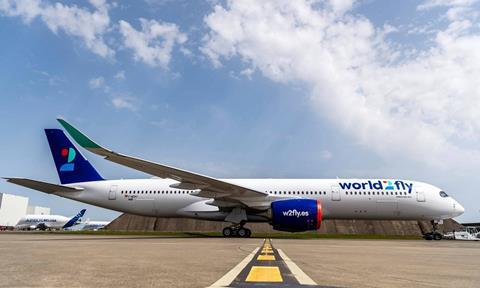 "We are confident the A350-900 will help distinguish World2Fly in the marketplace," says Air Lease assistant vice-president of marketing Matthew Stevens.
Air Lease has 30 A350s on order – including 10 of the larger -1000 variant – of which 13 had been delivered by the end of May.
Airbus says the aircraft is configured with an all-economy layout comprising 432 seats.
"Passengers will enjoy more personal space, wide seats and absolute well-being on board and appreciate the latest generation in-flight entertainment and connectivity," it adds.
Airbus lists World2Fly as operating a single A330-300. The aircraft (EC-LXR) is a 2010 airframe powered, like the A350, by Rolls-Royce engines.