Dutch carrier KLM is to cut up to 1,000 more jobs as a result of the later-than-expected recovery in travel demand from the pandemic.
KLM had already cut 5,000 jobs in 2020 in response to the crisis, but notes this figure was based on the start of a recovery in aviation during 2021.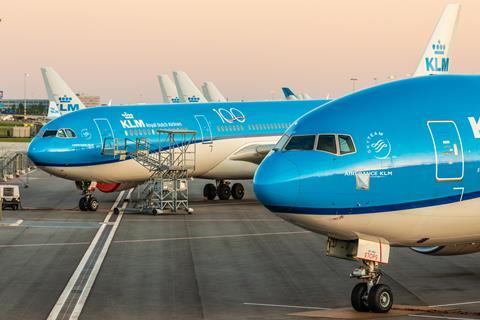 "The reality is that the recovery is taking considerably longer than expected, especially for the long-haul destinations, partly due to ongoing and new international restrictions restrictions," KLM says in a statement today.
As a result the carrier says it will have to cut a further 800 to 1,000 jobs. This will cover around 500 cabin crew positions, 100 cockpit crew roles and between 200 and 400 positions among ground staff.
KLM chief executive Pieter Elbers says: "After we announced in July 2020 that 5,000 colleagues were forced to leave the company, intensive consultation and co-operation took place with all social partners. Various instruments from the social plan have been used. This adjustment was very painful, but it worked. I have faith that we will work it out together."
Elbers adds that the cuts are independent from further travel restrictions proposed by the Dutch cabinet over the past two days. That includes a curfew and a temporary ban on flights to South Africa, South American countries and the UK, as well as a requirement for passengers bound for the Netherlands from abroad to take a rapid test prior to departure as well as a standard PCR test upon arrival.
Elbers says: "Even if our crews are exempted from this obligation, this additional reduction of jobs is unfortunately badly needed. The effects of the latest measures are added to this."