Thai Airways International has been granted a one-month extension of the deadline to submit its rehabilitation plan which will outline how its business will be restructured.
The flag carrier says in a 5 January stock-exchange filing that it had been due to submit its plan by 2 January, but on 28 December its rehabilitation planners made a request to the Central Bankruptcy Court for a one-month extension, which the court has granted.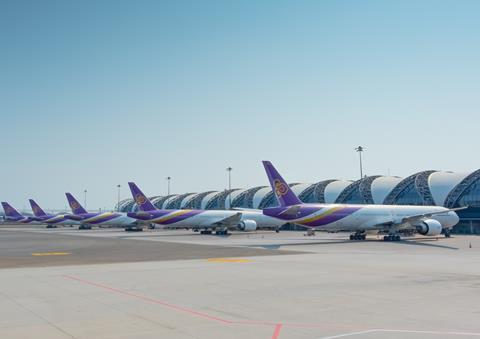 That court had previously approved Thai's rehabilitation petition on 14 September and appointed seven rehabilitation planners nominated by the airline. Then, the airline said that the next step following that approval was to prepare a rehabilitation plan.
Under the new deadline, Thai must now submit its plan by 4 February.
Since the airline first indicated that it would pursue a restructuring under business rehabilitation protection, market observers and those involved in the process had been warning of a protracted process relative to some other airline restructurings in the region.
Back in November, John Frangos, a partner at law firm Tilleke & Gibbins in Bangkok, told Cirium he anticipated Thai Airways having its plan ready by the first quarter of 2021, but added that "delays are possible".
Thai Airways says in the latest filing that it asked for the extension because it needs more time to consider aspects including its "debt structure, capital structure, and organisational structure" to make sure creditors are satisfied enough with the plan to give it their thumbs up.
"This is in addition to legal issues and contractual obligations with employees, business partners, and debtors; as well as in conjunction with financial estimates, capacity for debt repayment and future business plans," it adds.
"The production of the rehabilitation plan is therefore highly important, requires consideration, [and] detailed analysis to result in a just outcome for all creditors, and discussion with creditors and all interested parties in the draft rehabilitation plan in accordance with various principles to ensure the rehabilitation plan will receive the approval of the creditors' meeting."