Thailand's Central Bankruptcy Court has granted low-cost carrier Nok Air a one-month extension to file its rehabilitation plan.
In a 15 March stock exchange disclosure, Nok chief Wutthiphum Jurangkool says the court allowed the carrier up to 15 April to submit its business restructuring plans.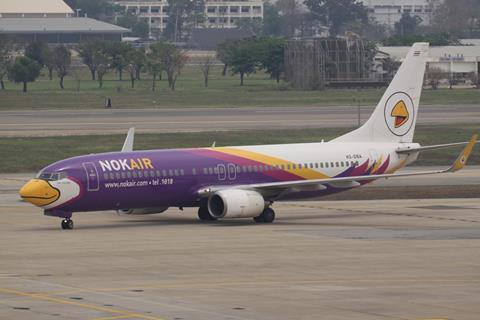 The troubled carrier had asked for a deadline extension, citing "several important aspects" of the proposal, which it says requires "the all-aspect analysis, consideration and formulation of the debt structure, capital structure, and organisational structure".
"This is in addition to legal issues and contractual obligations with employees, business partners, and debtors; as well as in conjunction with financial estimates, capacity for debt repayment and future business plans," Jurangkool discloses.
He adds that the rehabilitation plan "requires consideration [and] detailed analysis to result in a just outcome for all creditors".
Following the carrier's submission, the court will deliberate the plan, before issuing its decision to approve or reject the plan. If approved, the court will appoint administrators, and Nok can proceed with its business rehabilitation as planned.
Nok, which flag carrier Thai Airways has shareholding in, filed for business rehabilitation in July, amid the coronavirus pandemic, which had pummelled passenger travel demand.
The carrier was given the regulatory green light to pursue rehabilitation in early November, where it appointed Jurangkool, alongside four other individuals and Grant Thornton Special Advisory Services, to prepare the carrier's restructuring plan.
Nok is the second Thai airline to do so, following the footsteps of Thai, which itself filed for rehabilitation last May.