Dassault has slashed its 2020 delivery forecast for Falcon business jets from 40 to 30 on the back of the coronavirus crisis, but despite the problems in the market the airframer is pressing ahead with its new 6X programme ahead of planned first flight in early 2021.
Eric Trappier, chief executive of the French manufacturer, disclosed the change in delivery guidance during a half-year results briefing on 23 July.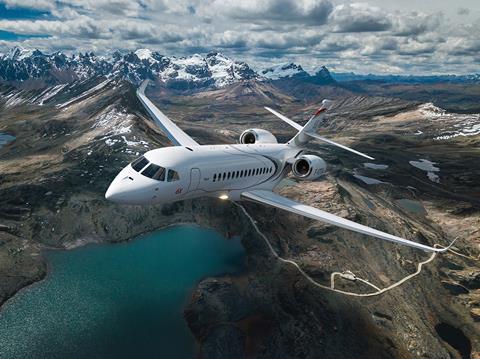 Trappier blames the change on the travel restrictions for customers and the social distancing measures in its production plants that have restricted output.
During the six months to 30 June, Dassault handed over 16 Falcon jets, although it does not provide a breakdown between models. Ten aircraft deliveries will be pushed into next year, he says.
However, Trappier reveals that the first flight-test 6X is now complete and has been powered on. The second and third prototypes are also in the assembly process, he says.
In addition, the long-range jet remains on track for its 2021 first flight and 2022 service entry, despite the disruptions imposed by the Covid-19 pandemic.
"We had to adapt our work with suppliers and sub-contractors so we could keep on with our efforts," he says, including engine provider Pratt & Whitney Canada whose PW800s will power the 6X. Ground tests of the first engine for the prototype are under way, he adds.
Work also continues on the company's Future Falcon programme, an announcement on which was due in the early part of this year.
Covid-19 "is not making me put off the development" says Trappier, but until customers can travel to France to help "contribute to this announcement", any official launch has been delayed.
Dassault recorded no business jet cancellations in the first half, while it took in five new orders.