Leonardo is preparing for the next phase of flight testing of its Falco Xplorer unmanned air vehicle (UAV) having successfully completed an initial validation campaign in collaboration with the Italian air force.
Conducted from Trapani-Birgi air base in Sicily, supported by the air force's 37 Wing, the flights evaluated behaviour of the UAV across multiple flight phases.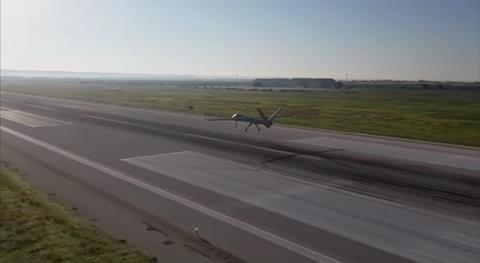 "The Falco Xplorer performed all planned flights on schedule and completed a range of complex functional tests, confirming the maturity of the platform," Leonardo says.
A second test effort will begin shortly, under the supervision of Italy's DAAA military certification authority. This will see the UAV perform a "series of increasingly complex flights", to test its most advanced capabilities, including automatic take-offs and landings, and satellite communications for beyond-line-of-sight operations.
In addition, the phase-two activity will assess the Falco Xplorer's Leonardo-supplied sensor suite – a LEOSS electro-optical turret, Gabbiano multimode radar, and automatic maritime traffic identification system.
Ultimately, certification will allow the platform to operate over populated areas, for example in support of public safety or civil-protection missions.
With an 18.8m (61.6ft) wingspan and 1.3t maximum take-off weight, the medium-altitude, long-endurance (MALE) Falco Xplorer is the largest UAV produced by Leonardo. It can stay aloft for up to 24h and carry a payload of up to 350kg (770lb).
Leaonardo says it is the first MALE UAV to be produced using exclusively European technology and is not subject to restrictions under International Traffic in Arms Regulations.

Dominic Perry is deputy editor of Flight International but also contributes extensively to flightglobal.com. Although specialising in the coverage of the helicopter industry, he has written on most topics in aerospace – be they commercial, defence or business aviation. In addition, there has been an increasing focus on the decarbonisation of the industry and zero-emission flight initiatives.
View full Profile