Boeing has conducted a 90min first flight with Qatar's lead F-15QA fighter, describing the model as "the most advanced version" of the twin-engined type ever manufactured.
The Qatar Emiri Air Force will receive 36 F-15QAs from next year under a $6.2 billion contract awarded in 2017. Boeing also is to provide training for aircrew and maintenance personnel under a separate deal signed last year.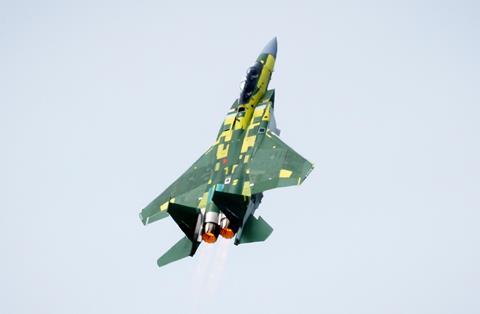 Conducted from Lambert International airport in St. Louis, Missouri, the debut sortie included a vertical "Viking" take-off and handling manoeuvres including 9g turns.
"Checks of systems such as avionics and radar were also successful", Boeing says, noting that the fighter "performed as planned".
"This successful first flight is an important milestone that brings our squadrons one step closer to flying this incredible aircraft over the skies of Qatar," says Colonel Ahmed Al Mansoori, commander of the Gulf nation's F-15 Wing.
Pointing to the Qatari model's claimed "best-in-class range and payload", Boeing F-15 programme manager Prat Kumar says: "The advanced F-15QA not only offers game changing capabilities, but is also built using advanced processes which make the jet more efficient to manufacture."
Boeing says this process has supported its development of an F-15EX variant being offered to the US Air Force. The service could acquire up to 144 of the type as replacements for aged C/D-model fighters, with an initial procurement expected to be for eight examples.