South African defence group Paramount is preparing to integrate weapons onto its Mwari light surveillance aircraft after delivering its first production example in December last year.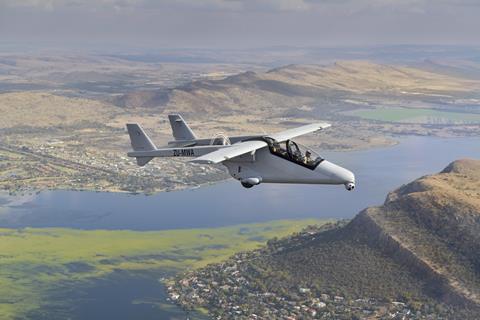 The launch customer – an undisclosed African nation – is due to take its second aircraft this month, with Paramount holding total orders for seven additional examples, including from at least one other country.
Mike Levy, chief executive of Paramount Aerospace Industries, the division responsible for the programme, will not confirm what armaments it is installing or the exact timeline, but says the launch customer will be operating weaponised aircraft "soon".
Paramount has been producing the Pratt & Whitney Canada PT6A-66B-pusher-powered, high-winged, tandem-seat Mwari – originally branded the AHRLAC – since 2021 in a new factory in at Wonderboom airport, near Pretoria.
There are four aircraft on the assembly line and the facility has a capacity for five at any time. Levy says that with strong sales prospects from at least two other countries, the priority is to "lift the production rate" over the next year.
"We are at a very exciting phase of the programme," he adds.
Future features Paramount is considering include a synthetic aperture radar and an air-conditioned cockpit to counter the heat build-up generated by the large canopy on the ground and in the first minutes of flight.
After a long campaign to bring the Mwari to market that included a messy dispute with its original father and son developers, finally resolved in 2019, Paramount flew the production-standard aircraft in April last year.
The Mwari has a crew of two – a pilot and weapons and surveillance systems operator, although its tandem cockpit means customers can also use the aircraft for training.
Levy describes the Mwari – which translates as all-seeing being in southern African Shona culture – as "the ultimate aircraft to find, fix and finish", and a more affordable solution than Western counterparts.
He admits the company "learned a lot" from being considered last year for the US Special Operations Command's Armed Overwatch competition that was seeking around 75 aircraft for close air support, precision strike, and intelligence, surveillance and reconnaissance missions. Paramount, paired with Leidos and Vertex Aerospace, lost to the Air Tractor/L3Harris AT-802U Sky Warden.
"It was exciting and flattering to be considered alongside some of the industry's biggest names, and important in terms of profile," says Levy, who admits that with just two prototypes, no operational aircraft and a factory coming on stream, "we weren't quite ready".
While the Mwari is not South Africa's first indigenous aircraft programme – in the 1980s and 1990s Denel developed and produced the Rooivalk attack helicopter – it is the only one to be exported.
"The Mwari is a critical programme for the aerospace sector in South Africa and the continent, in terms of providing a substantial manufacturing programme that can sustain jobs, skills, innovation and an industrial base," says Levy.
Paramount has established a "vertically integrated" production process that means it manufactures 90% of the aircraft's parts in-house. Levy's business has a workforce of 142, including 20 engineers, the average age of whom is 27.
Many veterans who came of age in South Africa's large Apartheid-era defence sector have moved to work abroad, a brain drain that has meant the company is focusing on nurturing young talent. "It is a challenge for us, but an opportunity to train a new generation of specialists, who also bring with them aptidues such as 3D printing," says Levy.
He says the plan is eventually to establish a modular manufacturing network to allow customers to assemble their own versions of the Mwari locally, a concept Paramount has already pioneered in its land vehicle business, with licensed manufacturing in the likes of Kazakhstan, India and the Gulf.
Entrepreneur Ivor Ichikowitz established Paramount Group in 1994 and it has expanded to become Africa's largest independent defence contractor. Its main product line is armoured vehicles. A US subsidiary provides Dassault Mirage F1 maintenance support to two companies that provide aggressor training and other contract services to the US Air Force.
Paramount's other interests include a military pilot training centre in South Africa.
On 22 February, Paramount Aerospace Systems announced at the IDEX defence show in Abu Dhabi a strategic partnership with Sharjah-based AAL Group to manufacture replacement composite main and tail rotor blades for Russian Helicopters' Mi-family from a plant within the United Arab Emirates.
Paramount has been manufacturing composite rotor blades since 2006. It says the components have an operational life up to eight times that of standard metal blades, and avoid the need to re-certificate the helicopter itself.
The company also plans to begin production of its N-Raven loitering munition in April, with first deliveries in October. Paramount says it has developed internally all the elements of the weapon – including the seeker, GPS system, and artificial intelligence-based software.