The UK Royal Air Force (RAF) is making tentative early steps towards its goal of achieving net-zero by 2040 but needs commercial air transport to fully embrace sustainable aviation fuel (SAF) to help improve its cost and availability, according to the head of the service's air mobility wing.
Since powering an Airbus Defence & Space A330 Voyager multi-role tanker transport in November 2022 on 100% SAF, the RAF has performed further "proof-of-concept" flights using the fuel.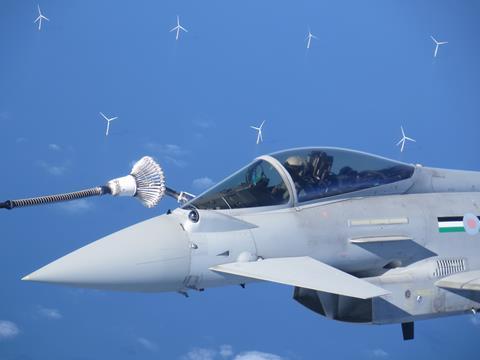 Those missions involved passing SAF to receiver aircraft including the Airbus A400M, Lockheed Martin C-130J and Eurofighter Typhoon.
The latest, a 17 April sortie, saw a Voyager – a VIP-configured example known as 'Vespina' (ZZ663) – refuel four Typhoons over the North Sea with a 43% SAF blend.
Speaking aboard the Voyager, Group Captain Gareth Burdett, Commander Air Wing – Air Mobility, said the service is "in the foothills" of its decarbonisation journey but is nonetheless making progress.
"The flight today demonstrates that [November's flight] was not just a gimmick; it's a repeatable event that also shows combat aircraft can be part of the journey as well."
While the RAF's entire inventory is qualified to operate on SAF blends of up to 50%, it is "not currently part of our routine operations", says Burdett, largely due to "the cost and ease of access".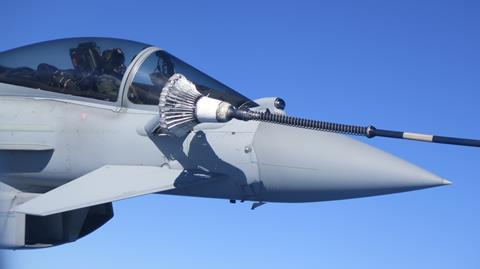 "That's why we want to encourage the wider aviation industry to increase its engagement with SAF," he adds. Greater commercial demand for the fuel will drive down the price and increase its availability, he notes.
Qualification of the Voyager and its Rolls-Royce Trent 700 engines to run on 100% SAF was driven by a consortium that included the engine manufacturer, Airbus, AirTanker, the UK Ministry of Defence and the RAF, with the jet's civil heritage also facilitating the process.
Burdett says similar levels of collaboration will be required to certificate the other transport aircraft under his control at RAF Brize Norton in Oxfordshire – the A400M and Boeing C-17 – for 100% SAF operation.
In addition, analysis of data from the November flight continues in order to evaluate any unforeseen impact on the engines or fuel system from the full SAF use.
Fuel for the 17 April flight was sourced and funded by International Airlines Group and British Airways and was supplied by BP. Derived from waste-based feedstocks, it was produced in Sweden and China.

Dominic Perry is deputy editor of Flight International but also contributes extensively to flightglobal.com. Although specialising in the coverage of the helicopter industry, he has written on most topics in aerospace – be they commercial, defence or business aviation. In addition, there has been an increasing focus on the decarbonisation of the industry and zero-emission flight initiatives.
View full Profile