The devastating impact of the Covid-19 pandemic on the airline industry has left many people yearning for a return to how things were in 2019. But the past 20 months of upheaval make it easy to forget that all was not rosy in the industry going into the current crisis.
The Middle East region is a case in point – and its experience then helps to frame its challenges coming out of the pandemic.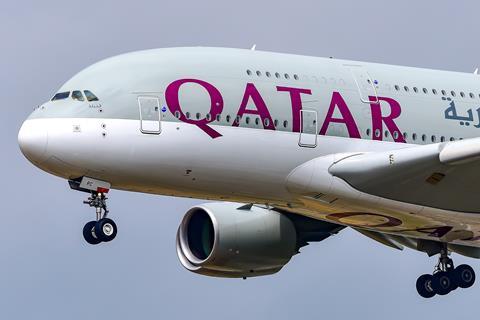 Towards the end of the last decade, the region's big hub carriers had conceded that years of double-digit growth were over. Among a raft of challenges, competitors were getting better at offering comparable alternatives to their products.
The region's geopolitical situation was unstable, notably amid a continuing blockade of Qatar by several of its neighbours. Tensions between the USA and China were impacting air cargo demand.
Ultimately, there was "a compendium of short-, medium- and long-term events which are affecting demand for air travel", Emirates Airline president Sir Tim Clark told FlightGlobal in September 2019.
All this was feeding through to airline bottom lines.
Etihad Airways was feeling the pressure particularly strongly as its equity partnership strategy fell apart and it worked through a transformation programme to become a "mid-sized airline".
All told, IATA data shows that Middle Eastern carriers recorded the biggest collective net loss among the global regions in 2019, at $1.5 billion, while the Asia-Pacific, Europe and North America were comfortably in profit. The region also recorded the weakest year-on-year passenger traffic increase, of just 2.3%.
Industry observers noted, with some prescience, that the region's airlines were particularly exposed to outside forces, given their relatively large reliance on international traffic and limited recourse to origin-and-destination passengers.
COVID COMPOUNDS CHALLENGES
As 2021 nears a close, the impact of those details has been heightened by the pandemic.
Compounding the challenges, many Middle Eastern operators have a high reliance on the Asia-Pacific region for passengers, exposing them to countries with some of the strictest travel restrictions globally.
The domestic markets that have, at times, been the only significant air connectivity open during the Covid-19 crisis are small or non-existent in the region. Carriers such as Saudia, meanwhile, lost the business associated with what is, in normal times, the huge Muslim pilgrimage to Mecca on the annual Hajj.
At the same time, the big Gulf carriers' fondness for large widebody jets means that even as that connecting traffic returns, they are having to serve it with metal that is unsuited to low-load-factor environments.
On top of that, the Covid-19 recovery is being characterised by leisure and visiting-friends-and-relatives traffic significantly outpacing the high-value corporate travel that helps make expensive widebody jets viable.
IATA data for 2020 and its estimates for full-year 2021 both show the Middle East furthest down on 2019 passenger traffic among the global regions, at -72% and -75% respectively. Its forecast for 2022 – down 55% – sees the region move off the bottom spot, but only at the expense of the small African market.
Some carriers have done their best to maintain global connectivity, including Qatar Airways, which sought to make a virtue of retaining a greater proportion of its network than most other carriers at the height of the crisis. But none have been able to hide from the financial realities of operating an airline during the pandemic.
Losses, where reported by individual airlines, have been large and worsened by aircraft impairments.
Thousands of employees have lost their jobs. Emirates, for example, said in July that it had cut its workforce by nearly one-third during the crisis, similar to cuts seen at Etihad but not quite as deep as those at Qatar Airways. Recruitment drives are returning, but pre-crisis staffing levels are some way off.
Helpfully, the biggest carriers have often found a sympathetic ear from governments when it comes to requests for financial help. But that has not always been the case.
"It is no secret that El Al is in the deepest crisis in its history," said the carrier as recently as September, as it demanded compensation of $100 million from the Israeli government to offset the effect of state decisions on the airline's operations.
The pain is set to continue for some months yet.
"Middle Eastern carriers will see very limited improvement in their financial performance from a $6.8 billion loss in 2021 to a $4.6 billion loss in 2022," IATA says in its latest outlook report. "Without large domestic markets, the region's major carriers rely significantly on connecting traffic, especially to Asia-Pacific, which has been slow to re-open to international traffic."
HURDLES REMOVED
But the news is not all bad. Indeed, as much as the pandemic period has created new challenges for all airlines, it also saw the resolution of some of the pre-crisis issues that were weighing on Middle Eastern airline expectations.
First, concerns about geopolitical tensions affecting air cargo prospects are long forgotten amid a surge in demand for such services. That boost from cargo services has helped airlines to offset some of their lost passenger revenue and might be a trend that endures well into the future.
"We do not take a decision now to operate a flight or to resume a flight just because there is passenger demand," said Qatar Airways chief commercial officer Thierry Antinori earlier this year. "What is very new [is that] we have permanently to think [about] the integration of cargo."
Emirates notes that nearly a third of its passenger jets have been used for cargo operations during the pandemic.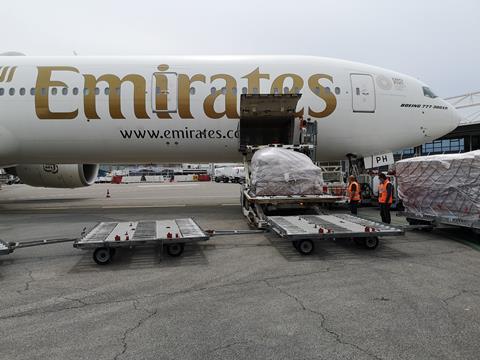 Indeed, FlightGlobal's latest World Airline Rankings data shows that while Middle Eastern carriers were hardest hit in terms of passenger traffic in 2020, their strong cargo activity meant the region did not lag in terms of revenues. Middle Eastern carrier income was still down 58% for the year, but this was not as pronounced as the 60% and 61% falls among leading European and Latin America carriers respectively.
Among other encouraging developments, the Qatar blockade was lifted following a reconciliation agreement reached at a Gulf Cooperation Council summit in January.
Months before that agreement, the normalisation of diplomatic relations between Israel and several Arab states opened up new network opportunities for a number of carriers. Etihad's first scheduled flight to Israel touched down at Tel Aviv Ben Gurion airport on 6 April this year, for example.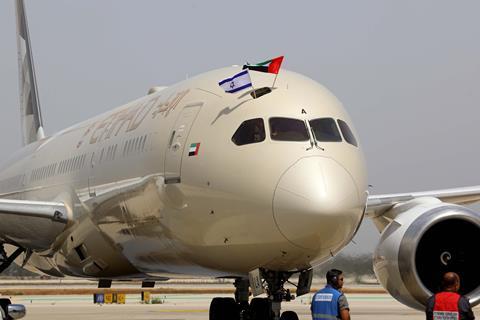 That came on top of the easing in tensions between the US majors and Gulf giants over subsidies and fifth freedom routes, which had cooled enough just before the crisis for American Airlines and Qatar Airways to reinstate a codeshare agreement in February 2020, two years after it had been suspended.
And in terms of the operating environment amid Covid-19, most Middle Eastern carriers are no longer facing the border shutdowns in their home countries that made passenger operations all but impossible. Bahrain, Qatar and the United Arab Emirates (UAE) have been among the quickest vaccinators of their populations in the world, with Saudi Arabia not far behind.
LOW-COST EXPANSION
The Middle East has also seen some interesting developments among low-cost carriers during the crisis – including rare airline start-ups.
Notably, Wizz Air Abu Dhabi launched flights in January, with its managing director Kees Van Schaick describing the airline as the pioneer of a "new model of air travel" for the UAE capital.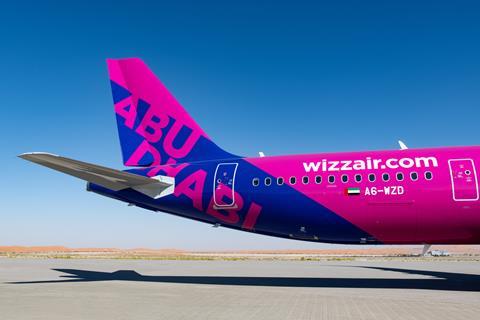 That launch created competition for Air Arabia Abu Dhabi, a partnership between the Sharjah-based carrier and Etihad that launched in mid-2020.
Emirates and UAE low-cost carrier Flydubai were already two years into a much closer relationship when the pandemic hit.
Speaking this year, Etihad Aviation Group chief executive Tony Douglas said that during the Covid-19 recovery, "the trick is to make sure that one has a blend of propositions that give choice to the marketplace" and that a tie-up with a low-cost carrier was a crucial part of that.
Air Arabia itself is a rare example of a carrier that has been able to record a profit during the pandemic. It has also been on the expansion path elsewhere, with plans to launch units in Armenia and Pakistan.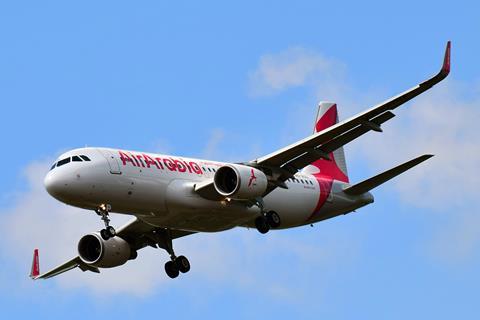 But while the region's budget carriers have sometimes faced better operating environments than their long-haul-focused peers, they have not been immune to the impact of the pandemic.
In July, Flydubai cut to 172 the number of Boeing 737 Max aircraft it has on order, after cancelling 65 of its firm commitments to the type following a review of its post-pandemic fleet plans.
SPLIT VIEWS ON WIDEBODIES
Elsewhere in the Middle East, fleet make-up remains a point on which there are different opinions among airline chiefs as they consider how the region might emerge from the crisis – particularly with heightened scrutiny around sustainability challenges.
While Qatar Airways is expected to bring some of its Airbus A380s back into service this year to cover for the A350s that have been grounded amid concerns about premature surface degradation, the Oneworld carrier remains unconvinced about the type's utility in a sustainability-focused world.
Among various negative comments about the superjumbo, Qatar Airways chief executive Akbar Al Baker has described the type as "one of the worst aircraft, when it comes to emissions, that is flying around today".
In Abu Dhabi, Etihad's 10 A380s have been grounded "indefinitely".
Clark, however, insists that A380s will be an important part of Emirates' fleet into the 2030s.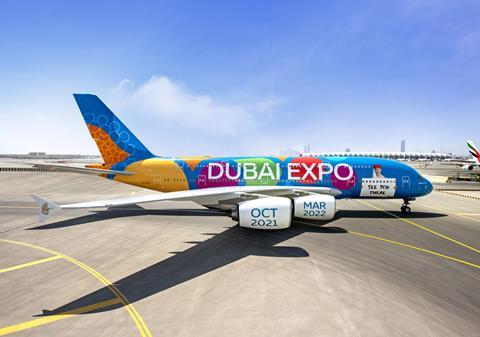 The return of the business traffic that helps make such aircraft economically viable remains another point of debate. Airline chiefs will variously say anything from the corporate market being structurally smaller for the foreseeable future, through to a belief that it will bounce back much more quickly than most dare imagine.
Helpfully for Emirates, the loss of some corporate customers might not mean fewer people flying, in Clark's view.
"The corporate segment might diminish over time. But the same seats will be filled by people who have hitherto not been able to afford that seat," he said earlier this year.
Nevertheless, Emirates has brought forward deliveries of its final three A380s to later this year, which will double the number of its superjumbos to feature its nascent premium economy cabin – a product that might come into its own in a market featuring more price-conscious travellers.
HUB MODEL UNDIMINISHED
Whatever the make-up of future demand, the chiefs of all the big hub carriers believe that the region's status as a connecting post for long-haul flights will not be fundamentally damaged by the pandemic.
Clark has previously stated that "people should be thinking about the upside, not the downside" of future traffic projections, as he outlined a vision for Emirates to eventually expand into thinner routes using incoming A350 and 787 jets.
Qatar Airways, meanwhile, recently noted that it had rebuilt its network from a low of 33 destinations to more than 140, helping to ensure it is "well-positioned to take advantage of the recovery of international travel".
Elsewhere, Douglas said in September that the "hub status of Abu Dhabi and the UAE in general, given the fact that we are six flying hours from two-thirds of the world's population, will continue to be a very significant part of our operating model".
And Etihad might rightly curse its luck that under the leadership of Douglas, its transformation effort was beginning to have a positive impact in the first few months of 2020, before the industry was plunged into its biggest crisis.
Half-way through a five-year transformation programme, the carrier had already taken out costs running into the hundreds of millions of dollars and cancelled orders for dozens of A350 and 777X jets in 2019.
BIG CUSTOMERS FOR LARGE AIRCRAFT
Despite those developments at Etihad, Middle Eastern airlines retain some of the world's largest widebody orderbooks as they come out of the crisis.
Cirium fleets data shows that Emirates has some 197 outstanding orders for widebody aircraft, as of mid-October, including 101 777-9s, 50 A350-900s and 30 787-9s.
With 76 A380s still grounded and just 44 in service, the number of aircraft on order is more than Emirates' in-service fleet of 188 jets.
Qatar Airways has 106 widebodies on order, including 50 777-9s and 23 A350-1000s. It also has an outstanding order for 50 A321neo narrowbodies, Cirium data shows. The Doha-based carrier has 200 aircraft in service.
Meanwhile, Etihad has 72 widebodies on order, including 17 777-9s and 15 A350-1000s. It also has 26 A321neos on order. The Abu Dhabi-based carrier has 70 aircraft in service, Cirium data shows.
Saudia remains a big widebody player in the region, with 86 such aircraft in service in mid-October, alongside 60 narrowbodies. It has been adding 787-10s to its fleet and has outstanding orders for dozens of A320neos and A321neos – some of which will enter service with its low-cost unit Flyadeal.
Other carriers including Gulf Air, Oman Air and Royal Jordanian also have outstanding widebody deliveries.
The still-impressive orderbooks at the Middle East's airlines bring to mind what now looks like the golden age for the region's air transport industry in the early 2010s. Most memorably, on the first day of Dubai air show in 2013, Emirates, Etihad and Qatar Airways signed orders and commitments for a total of 225 777X aircraft. Etihad then added an order for 30 787-10s and Flydubai committed to buy up 100 737 Max aircraft and 11 737NGs.
In stark contrast, the early 2020s are likely to be charactised by the region's airline sector needing to demonstrate that despite going into the pandemic crisis on the back foot, the fundamentals of the business still stand up in a post-Covid-19 world.