Strong performance in its propulsion division has powered Safran to nine-month revenues of over €13 billion ($12.9 billion), a figure achieved despite continued problems in its supply chain.
On an organic basis, revenues grew by 17.3% year on year, to €13.4 billion, for the nine months ended 30 September, also rising by 17.9% for the third quarter, to €4.8 billion.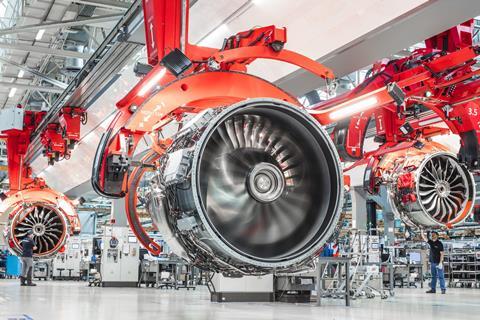 Deliveries of Leap-series narrowbody engines – produced by Safran-GE joint venture CFM International – led the way, increasing to 347 units in the quarter, a rise of 54% on the 226 powerplants shipped during the previous three months.
Across the first nine months of the year, CFM has delivered 812 Leap engines, up 30% on the 625 shipped in the same period of 2021.
However, Safran notes that even this higher output is "still below airframers' demands".
Leap-1A engines equip Airbus A320neo-family jets, while the Boeing 737 Max is exclusively powered by the Leap-1B.
Civil aftermarket sales were also buoyant, rising by 25.9% year on year.
"Strong business momentum continues in a context of persistent supply chain disruption and rising inflation which we are managing with a sharper focus on pricing and continued efforts on operational performance," says Safran chief executive Oliver Andries.
Quarterly revenues at Safran's sometimes underperforming interiors business unit grew by 22.1%, to €522 million, over the same period of 2021, driven by demand for equipment for the A320 and services.
Low widebody build rates continue to drag on the equipment segment, with quarterly revenues increasing by just 7.3%. In particular, Boeing's well-publicised 787 delivery halt during much of 2021 and 2022 has hit Safran: year-on-year declines in shipments of landing gear sets, from 30 to seven, and of primary power distribution equipment, from 154 to 60 units, were recorded across the nine-month period.

Dominic Perry is deputy editor of Flight International but also contributes extensively to flightglobal.com. Although specialising in the coverage of the helicopter industry, he has written on most topics in aerospace – be they commercial, defence or business aviation. In addition, there has been an increasing focus on the decarbonisation of the industry and zero-emission flight initiatives.
View full Profile