CFM International expects to be producing 2,000 Leap-series engines per year by 2023 as the joint-venture prepares for the "second ramp-up" of the powerplant.
Leap output hit 1,700 units in 2019, but cratering demand on the back of the coronavirus pandemic saw production fall to 815 in 2020 and it will only reach 900 this year.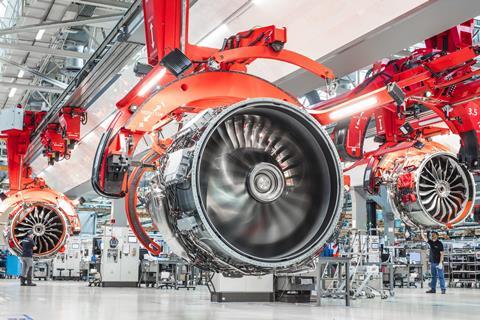 But Safran, which is a partner in CFM alongside GE Aviation, now forecasts a sharp rate increase on the back of robust sales of new-generation narrowbody aircraft.
Detailing the output rise as part of its capital markets day on 2 December, the French aerospace group says it is "ready to deliver the second ramp-up of the Leap with a doubling of production from 2021 to 2023".
"Leap deliveries will ramp again up to 2,000 engines from 2023," it adds.
Break-even on the Leap should occur in 2025, Safran predicts, "after the first few years of ramp-up at negative margins".
Leap-1B engines exclusively power the Boeing 737 Max, while the Leap-1A holds a 59% share on the Airbus A320neo. The Leap-1C, meanwhile, will equip the Comac C919.
Airbus plans to increase A320neo output to 65 aircraft per month by the summer of 2023 and Boeing is also progressively raising production of the 737 Max, hitting 31 aircraft per month in early 2022, potentially rising to the low 40s later that year.
Safran sees a "significant" market for spare parts on second-generation CFM56 engines, with demand returning to 2019 levels by 2024 and a "prolonged plateau" over the 2025-2028 period.
The company is also weighing up options for almost one-third of the businesses acquired through its 2018 purchase of Zodiac Aerospace.
"A portfolio review, conducted after three years of experience since their acquisition, concluded that 70% of the former Zodiac Aerospace businesses are core and 30% under assessment," it says.
However, it expects its seating and cabin businesses to reach break-even in 2022, with double-digit profitability by 2025.