Leonardo has supplied an undisclosed African navy with a pair of specially adapted Beechcraft King Air 350ERs, with the twin-turboprops optimised for maritime patrol duties.
Confirming a recent service-entry milestone for the aircraft, Leonardo says they will be used to perform missions including "search and rescue, littoral security and the monitoring of illegal migration, fishing and pollution".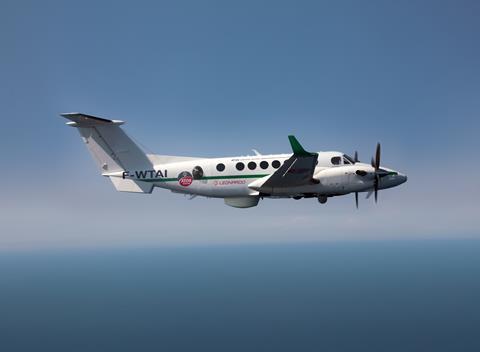 Acting as prime contractor for the modification, Leonardo integrated its Seaspray active electronically scanned array radar, an electro-optical/infrared sensor turret, identification friend-or-foe system equipment and a Link 11 datalink for the customer. Using its onboard airborne tactical observation system (ATOS) mission suite will enable the operator to reduce crew workload by producing a "single tactical picture", it adds.
Certification for the King Air update was approved via the European Union Aviation Safety Agency.
In addition to its success in delivering these assets, Leonardo points to "interest from customers in Asia-Pacific and the Middle East" for the "surveillance-ready" offering.