The UK's Marshall Aerospace and Defence Group has secured a five-year contract to maintain the Cameroon air force's Lockheed Martin C-130H tactical transports.
Announced on 4 May, the deal also involves the company providing technical support and personnel training to the African operator.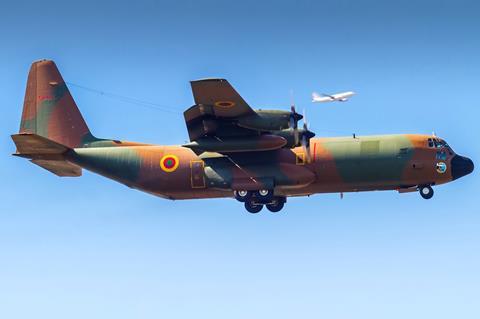 Cirium fleets data shows that the Cameroon air force has a trio of H-model Hercules, aged between 38 and 42 years.
Depth maintenance for the fleet will be performed at Marshall's Cambridge airport site, with air force personnel also to receive training to enable them to deliver front line support for the assets in Cameroon.
Marshall also will work with the air force's in-country logistics provider, Aeromec, in order "to enable the best possible delivery of services".
"We look forward to developing a solid long-term relationship with Marshall and seeing the benefits that their experience will bring to our C-130 operations," says air force chief of staff Brigadier General Jean-Calvin Momha. "The C-130 provides critical capability to our important airlift missions," he adds.
Cirium information shows that the Cameroon air force's fixed-wing airlift inventory also includes lone examples of the Airbus Defence & Space CN235 and AVIC Xian MA60.