In common with its A400M Atlas stablemate, the Airbus Defence & Space A330 multi-role tanker transport (MRTT) has come into its own during the coronavirus pandemic, with multiple nations demonstrating the adapted widebody's operational versatility.
"The MRTT was absolutely part of the fight against Covid[-19]," Didier Plantecoste, the company's head of tanker and derivatives programmes, tells FlightGlobal.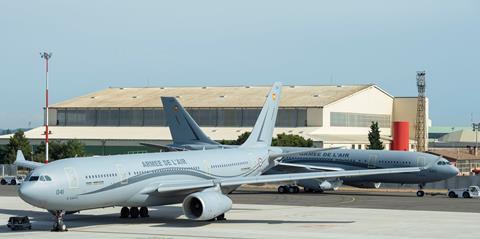 "Some of our customers were performing important missions," he says, including repatriation and medical evacuation flights, such as several return sorties to Wuhan, China, conducted by the French air force with the service's new "Phenix" tankers.
Airbus itself employed a "green" A330, which had yet to enter modification for its military customer, to transport more than four million face masks from Tianjin, China, for donation by the company to France and Spain.
The MRTT's medevac capabilities – including being partially reconfigured to house intensive care unit (ICU)-standard equipment – have also been repeatedly proven during the health crisis.
Plantecoste notes that not all MRTT users had selected such an option for their fleets prior to the crisis, but that demand has spiked. "We have seen real interest from our customers," he says, with Airbus offering from "light" to "heavy" medevac configurations.
Disruption to normal working practices during the coronavirus outbreak posed challenges, but ensuring strong support and meeting delivery milestones remained a key focus for the company. "The main contribution was to our customer," Plantecoste notes: "business continuity was really key for us."
Such work included completing a systems upgrade on a first A330 for the Republic of Korea Air Force. This was conducted on the service's third example from a four-unit buy, which was returned to use by Seoul in late May.
Late June saw the delivery of a first boom- and hose-and-drogue refuelling pod-equipped A330 for the NATO Multinational MRTT Fleet (MMF), to Eindhoven air base in the Netherlands. This was immediately followed by the transfer of a third Phenix to France, while a second example for the MMF is due to be shipped within the coming weeks.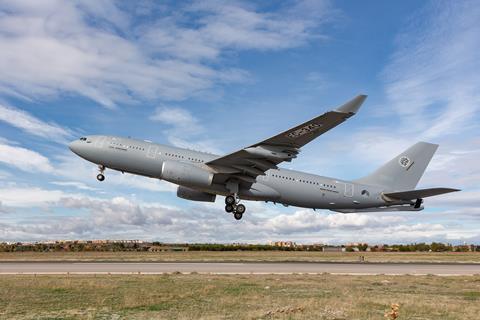 This trio of deliveries in little over a month will mark a record for the MRTT programme. They will take to 44 the total number of aircraft handed over to customers, with a further 16 on firm order. Other current users are Australia, Saudi Arabia, Singapore, the UK and the United Arab Emirates (UAE).
In a stroke, the MMF programme has added six more nations to this users' group. Current arrangements call for an eventual pooled fleet of at least eight aircraft to deliver a combined 8,900 flight hours per year for Belgium (1,000), the Czech Republic (100), Germany (5,500), Luxembourg (200), the Netherlands (2,000) and Norway (100).
Deliveries will be complete by 2022, with options for a further three tankers in place. Configured with 31 business- and 236 economy-class seats, the assets can also be converted for medevac tasks, in a revised layout with six ICU beds, 16 stretchers, seating for 21 medical staff, and 96 passengers.
In another recent development, Plantecoste says the UK's conversion of an AirTanker-owned A330 Voyager for VIP transport applications has prompted interest from several other operators. Used by the Royal Air Force, the asset retains its primary in-flight refuelling capability.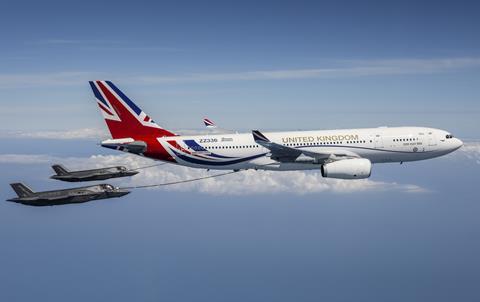 Further enhancements to the MRTT are already in the pipeline, led by an automatic air-to-air refuelling, or A3R, boom capability. Certification is on schedule for 2021, for service introduction by Singapore, with Australia also interested.
The new technology will reduce operators' training burden and enhance safety, says Plantecoste, adding: "We are convinced that we are securing the future."
France and the UK, meanwhile, intend to employ their tankers as communication nodes within future combat air system networks.
"We have a huge opportunity to pave the way to support the 'combat cloud'," says Plantecoste, who expects a "Standard 2" requirement with France's DGA defence procurement agency to advance next year.
While the European pair are leading the way, "Most of our customers are really pushing us to provide additional capabilities" in the communication sphere, he says.
With production of the MRTT's A330-200 baseline platform secure until 2023 or 2024, Airbus is eyeing additional sales opportunities. Beyond providing extra aircraft for an expanded MMF group in Europe, it is entering "a new round of negotiation" with the UAE, which last November signalled an intention to double the size of its three-strong fleet of the Airbus type. However, Plantecoste notes that the company still faces "strong competition" for the deal from Boeing's 767-based KC-46A.
Prior to the coronavirus-driven downturn and collapse in oil prices, Qatar was viewed as "a strong prospect" last year, he says. Doha needs tankers to support its rapidly growing fighter inventory, which will include Boeing F-15s, Dassault Rafales and Eurofighter Typhoons.
Longer term, Airbus and its partner Lockheed Martin are waiting on the US Air Force to detail its plan for replacing a fleet of 58 McDonnell Douglas KC-10s.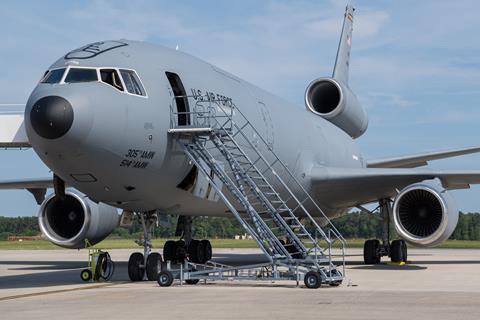 "We are expecting something like an RFI [request for information] in the months to come. Our objective will be to answer that jointly with Lockheed Martin," Plantecoste says.
He notes that previous Airbus studies have shown that despite its smaller size, the A330neo's much lower fuel consumption could allow it to "compete perfectly in terms of capability".
"We have all the competencies to offer an A330 MRTT Neo, [but] we will have to make a huge investment for that," Plantecoste says. However, he quips: "If you are ordering 30 MRTT tomorrow, I will find a solution."
Airbus also remains in discussion with India – another potential MRTT customer – regarding an indigenous project to adapt the A330 for airborne early warning and control duties. The company would supply so-called "blue" aircraft, readied for the installation of a roof-mounted rotodome and onboard mission equipment. "We have delivered offers, and we are quite confident," he says.
Following a successful stint at the head of the A330 MRTT project, Plantecoste will from early September manage the Eurodrone project for Airbus Defence & Space. This will deliver unmanned surveillance aircraft for use by France, Germany, Italy and Spain.