The US Air Force (USAF) has taken delivery of its latest Compass Call electronic warfare aircraft.
However, unlike the legacy EC-130H aircraft that was based on the Lockheed Martin turboprop transport, the latest EC-37B from L3Harris and BAE Systems is jet-powered.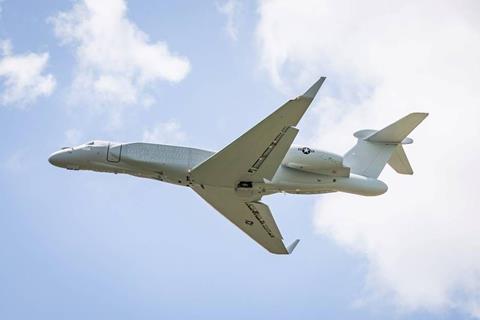 That platform, which also bears the designation Compass Call, is based on the Gulfstream G550 business jet. BAE oversaw the production of the electronic attack package, while L3Harris was the prime contractor for integrating those mission systems into the Gulfstream jet.
L3Harris and BAE announced the milestone on 12 September at the 2023 Air Space Cyber conference near Washington, DC.
"Our team accomplished the incredible challenge of migrating the Compass Call mission equipment from the much larger EC-130H and fully integrating it into the Gulfstream G550 platform," says Jason Lambert, president of intelligence, surveillance and reconnaissance at L3Harris.
"As the air force sunsets its 40-year-old EC-130H fleet, the cutting-edge EC-37B will empower the customer to continue serving its vital electromagnetic warfare mission for generations to come," he adds.
The USAF plans to acquire 10 of the EC-37B Compass Calls. The initial aircraft will be used for operational testing and development.
BAE, which produces the electronic warfare package in Hudson, New Hampshire, says the new aircraft will deliver much needed electronic attack capability to the USAF, which is in the process of reorienting its forces to survive in well-defended airspace contested by a modern adversary.
"The system disrupts enemy communications, radars and navigations systems," BAE says, "and suppresses enemy air defences by preventing the transmission of essential information between adversaries, weapon systems and command-and-control networks."
The latest jet-powered iteration of the Compass Call platform represents a significant improvement over its predecessor, according to L3Harris, with increased range and speed, alongside greater endurance and survivability.