Lockheed Martin won a contract to sell its Sniper Advanced Targeting Pod (ATP) and two other sensors to two dozen countries and US military services – a deal worth up to $485 million.
The US Air Force (USAF) granted the company the indefinite-delivery, indefinite-quantity contract (IDIQ), which has a $485 million ceiling, via the Foreign Military Sales process.
As well as to potential sales to US military services, the contract enables purchases of airborne sensors from Bahrain, Belgium, Bulgaria, Canada, Egypt, Greece, Indonesia, Iraq, Israel, Jordan, Republic of Korea, Kuwait, Morocco, Netherlands, Norway, Oman, Pakistan, Poland, Qatar, Romania, Saudi Arabia, Slovakia, Taiwan, Thailand and Turkey, the US Department of Defense says in an online notice posted on 18 May.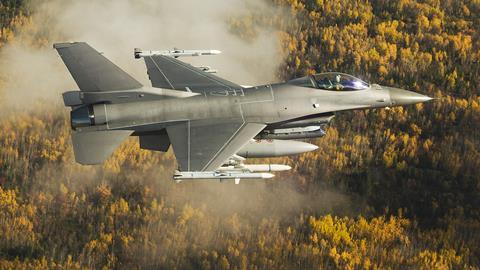 In addition to the Sniper ATP, the award allows Lockheed Martin to sell its Low Altitude Navigation and Targeting Infrared for Night Extended Range (LANTIRN ER) sensor and Infrared Search and Track 21 (IRST21) to the foreign militaries on an on-demand basis for five years. There is no guarantee the countries will purchase the sensors.
The Pentagon is using the flexibility of the IDIQ contract to accelerate business for Lockheed Martin, as part of a wider effort to bolster the US military-industrial base during the coronavirus-caused economic recession.
"We're pleased to offer these three sensors products in an IDIQ contract for the first time," says Kenen Nelson, Lockheed Martin missiles and fire control fixed-wing programme director. "Implementing more products on an IDIQ allows us to supply our customer with the capabilities they need faster."
Sniper ATP is used to detect, identify, automatically track and laser-designate small tactical ground targets at long ranges. It is qualified on the Mitsubishi F-2, Boeing F-15, Lockheed Martin F-16, Boeing F/A-18, Fairchild Republic A-10, Rockwell B-1, Boeing B-52, BAE Systems Harrier and Eurofighter Typhoon aircraft.
The LANTIRN ER pod is for low-altitude navigation and aiming at ground targets in day or night. The pod relies on thermal imaging and with terrain-following radar. The sensor is qualified on the USAF Boeing F-15E and international F-15 and F-16 versions.
The IRST21 is for passively detecting, tracking and targeting enemy aircraft, in particular in situations where using radar would reveal a fighter's location. The sensor system uses infrared search-and-track to find engine heat from adversarial aircraft. It can be mounted on the nose of the F/A-18E/F's centerline fuel tank, or as part of Lockheed Martin's Legion Pod multiple-sensor system, which is carried underneath F-15s and F-16s.