The first Airbus Defence & Space A330 multi-role tanker transport (MRTT) to be introduced as part of a pooled NATO fleet will arrive at Eindhoven air base in the Netherlands on 30 June.
Airbus formally delivered the boom-equipped tanker to the NATO Multinational MRTT Fleet (MMF) at its Getafe modification site near Madrid on 29 June, with the acquisition managed via Europe's OCCAR defence procurement agency.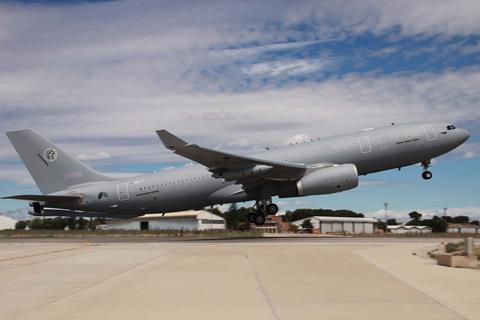 Produced under an initiative involving Belgium, the Czech Republic, Germany, Luxembourg, the Netherlands and Norway, the transferred A330 is the second of an eventual eight to be prepared for the MMF unit. A further three Rolls-Royce Trent 700-engined -200s are covered by options.
"This unique, state-of-the-art capability will enable our participating nations to perform a wide range of operations in multiple domains," says NATO Support and Procurement Agency general manager Peter Dohmen.
The MMF assets will be operated from Eindhoven, and also a forward operating base in Cologne, Germany. In addition to providing tanker capability, they will also be employed for personnel and cargo transport, and medical evacuation duties. Cirium fleets data shows that the unit's aircraft configuration includes 200 seats.
OCCAR says the acceptance process for the delivered aircraft began on 2 June, and "was performed following strict health and safety measures to minimise Covid-19 exposure".