Northrop Grumman and the US Air Force (USAF) have agreed to more-widely share data related to the in-development B-21 bomber, a move they say will allow improved cooperation throughout the programme.
The partners "signed an industry-first data-rights agreement recently, opening B-21 data access and collaboration across the programme," Northrop said on 21 September. "The agreement establishes a level of access to common data and data environments that had not yet been accomplished on a programme of this scale."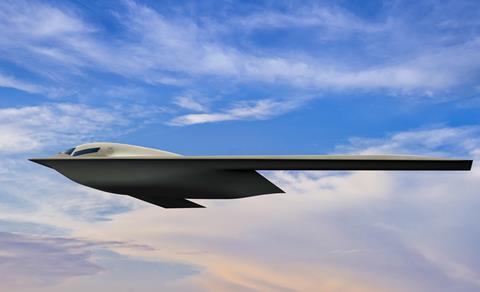 The news aligns with the Pentagon's push for improved data sharing among partners working on major defence-development programmes. The Pentagon wants new equipment to have "open source" operating software, which it says can facilitate faster technology development.
The B-21 Raider is to be the USAF's new long-range bomber. On 20 September, the service said it intends to reveal the aircraft in December.
Northrop says the new data agreement will improve "transparency and collaboration between Northrop Grumman and the air force, helping to deliver greater affordability and rapid upgradability".
Northrop also says that "earlier this year" it moved the B-21's ground-based systems "to a cloud environment" – part of a demonstration.
"This successful test proved the ground systems footprint can be significantly reduced at main operating bases and in [a] deployment package," it says.