Greece's Aegean Airlines is operating around 40% of last year's summer capacity in July, rising to half in August, as it looks to rebuild its schedules after the coronavirus grounding.
Addressing a virtual meeting of the carrier's shareholders, chief executive Dimitris Gerogiannis acknowledged that although average load factors were "gradually evolving at a positive pace", they would remain significantly below usual levels for the near term.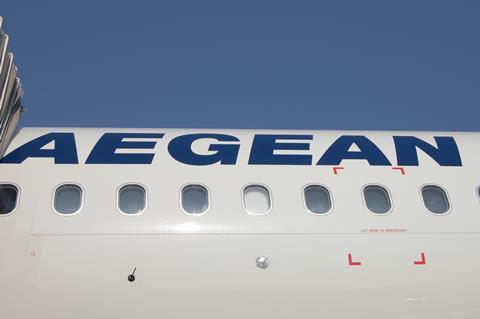 "However, their contribution will be positive in order to partly mitigate the losses compared to the previous months," he adds.
Aegean expects second-quarter losses to be in line with previous estimates at around €26-28 million ($30-32 million), but cash burn has been significantly below an initial projection of €40 million per month. This enabled the airline to maintain cash at over €400 million at the end of June, excluding new credit lines.
"The challenges we are all facing due to the Covid-19 pandemic, are truly unprecedented," says Gerogiannis. "However, our efforts to improve Aegean's cash shielding, reduce our total costs and adjust both our product and network to these continuing changing circumstances, are ongoing.
"The ability to predict will remain vague in the near future, as demand is strongly affected by the epidemiological developments. Yet, in times of crisis of such a magnitude, the credibility, the strong company culture and the overall stance of a carrier towards its people and passengers are proven to be even more important."
Aegean's fleet-renewal programme remains in place, "though the airline is working on possible solutions towards achieving necessary adjustments and flexibility". This year, it has taken delivery of five new Airbus A320neos and a further two jets are expected in the coming months, including a first A321neo. Cirium fleets data shows that the carrier has a further 31 aircraft on order.
It is planning, by the start of August, to connect Athens with 73 destinations and operate an additional 52 routes from bases elsewhere in Greece.