Colombia's Avianca has ordered 88 Airbus A320neos, with deliveries scheduled between 2025 and 2031.
The Bogota-based carrier has also taken options to acquire another 50 of the jets, Avianca says on 8 March.
"This order highlights that we continue to make the required investments to grow our network in line with our business plan," says Rohit Philip, Avianca chief financial officer.
The new aircraft will have an updated cabin configuration that will include "Premium", "Plus" and economy seats, the airline says.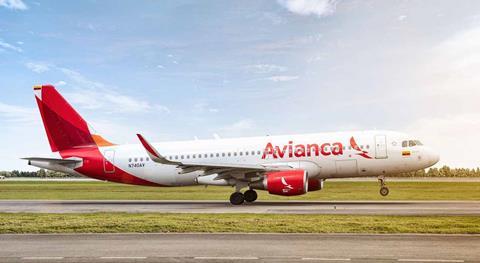 Avianca currently has 110 aircraft in its fleet, with "more than 90" A320s being reconfigured with the new seats, which the company introduced last October. The carrier says that by the end of 2022 all its aircraft will have the new interiors.
In addition to the Airbus narrowbodies, the carrier also operates A330s, Boeing 787-8s and ATR 72-600s. It serves 120 routes to 65 destinations across North and Latin America, and Europe, with 3,200 flights every week.
"The A320neo incorporates the latest technologies including new-generation engines, sharklets and aerodynamics, which together deliver 20% in fuel savings and CO2 reduction compared to previous-generation Airbus aircraft," says Airbus Latin America chief Arturo Barreira.
The company emerged from Chapter 11 bankruptcy protection late last year after restructuring in the wake of the coronavirus crisis that brought the global aviation industry to a near-standstill in 2020.
It was the first of three major Latin American carriers to complete court-overseen financial restructuring. On 1 December, Avianca said it successfully reached agreements with its creditors, pulled in $1.7 billion in fresh capital and obtained approval for its reorganisation plan. It has pivoted to build a point-to-point network that will appeal to cost-sensitive travellers looking for direct flights and convenience.
The carrier has said it expects to "nearly double its network" in the next three years, expanding to 200 routes. It plans to operate more than 130 aircraft by the end of 2025, and is investing more than $200 million redesigning its cabins.