British Airways has extended the maintenance contract for its 12 Airbus A380s, further signalling its intent to return all of its superjumbos to service.
The contract with Lufthansa Technik will run for five years from August 2022, with work to be completed at the maintenance provider's facility in Manila.
"We are proud to continue our good relationship with British Airways by extending the Airbus A380 base maintenance contract for another five years," says Elmar Lutter, chief executive of Lufthansa Technik Philippines. "We remain committed to servicing the A380 aircraft in the foreseeable future."
During the Covid-19 crisis, BA has frequently expressed its desire to return its A380s to service, in contrast to the strategies adopted by many other operators of the type.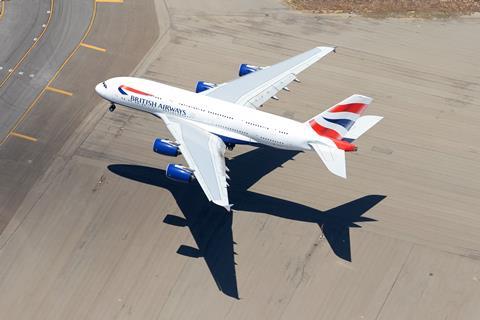 Speaking in March, BA chief executive Sean Doyle explained that the A380 "works very well in a number of larger markets".
The type is therefore "an important part of our fleet, and at the minute our plans are to obviously fly [it again]", he said.
All 12 of BA's A380s are currently in storage, according to Cirium fleets data.