Cathay Pacific has stressed that it is in discussions with Boeing about deferring — not cancelling — its orders for the 777-9 widebody.
At a briefing after it disclosed record first half losses, Cathay chief operations and service delivery officer Greg Hughes says it is a "deferral of all 21 aircraft" on order.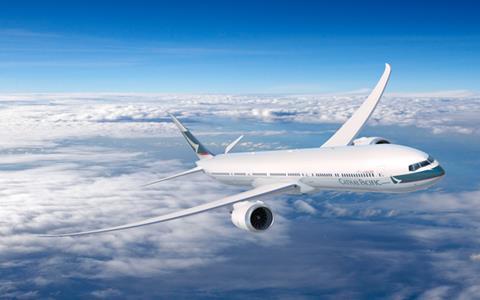 The carrier in July reached an agreement with Airbus to delay delivery of A350s and A321neos by up to two years. At the time, Cathay said it was in "advanced negotiations" with Boeing on the 777-9 deferrals, but gave no further details.
Hughes also discloses that regional unit Cathay Dragon will receive its first A321neo in October, though which route the narrowbody will be deployed on depends on how the recovery develops over the coming months.
Cathay Dragon is due to receive two A321neos this year, down from original projections of six aircraft. The carrier has 16 A321neos on order.
The group's carriers, which also comprise low-cost arm HK Express, will move a third of their fleet to parking locations outside of Hong Kong "over the coming months".
A first batch of aircraft is being moved to Alice Springs, says Cathay group chairman Patrick Healy, who adds that the carrier is "in discussions with other locations" currently.
"This is a prudent asset management decision that is necessary to ensure that the condition and value of our aircraft are maintained while they are not flying," Healy adds. It was previously reported that Cathay was mulling parking some aircraft overseas to protect them from the city's hot and humid summer.
The latest announcements come amid a broader cash conservation and cost cutting plan, after Cathay posted a record group operating loss of HK$8.7 billion ($1.13 billion) for the six months ended 30 June.
The group's carriers, which, have been hard hit by a collapse in travel demand since the start of the year, owing to the coronavirus outbreak.
On recovery, Healy notes that the near-term prospects remain bleak.
Asked whether the second half of the year, which traditionally has seen stronger results, will be better, Healy says: "We are in an extremely dynamic situation…so the short term future is still going to be very tough…[and] very challenging. I think in totality, it is very difficult to say with any certainty, but I don't think we are expecting the second half to be better than the first half at this point in time."
For August and September, Cathay and Cathay Dragon will continue to operate at capacity levels below 10%, before possibly adjusting it upwards from October, adds Healy.
This is a downward revision of an earlier capacity projection of about 10% for August and is due mainly to the continued presence of travel restrictions across most parts of the world.
In the longer term, Healy remains confident of the carrier's prospects.
"Cathay Pacific's long term future remains bright. We will maintain our world-class service and productivity, and will continue to play a leadership role in developing the Hong Kong aviation hub. [This] will be pivotal to the region's recovery when we emerge from this crisis," Healy says.