Avolon is removing 75 Boeing 737 Max jets from its orderbook, and while the world's fourth largest lessor by fleet value says it "remains committed" to the type, these add to cancellations from before the coronavirus pandemic.
"I think Boeing will be extremely concerned that other lessors may follow Avolon's lead and cancel Max orders," says Rob Morris, global head of consultancy at Ascend by Cirium.
"Indeed, we have already seen Air Lease and CALC cancelling aircraft tactically (by swapping to 787) albeit this was a consequence of Max delays rather than Covid-19."
Cancelling aircraft orders can often lead to financial penalties. While every sales contract is different, the general consensus is that once delivery by the airframer has been delayed by more than 12 months from the contractual date, this amounts to material adverse change and cancellation is possible with limited penalty.
Cirium fleets data shows that 12 of the world's top 20 lessors by portfolio value have about 940 Max jets on order, for delivery between July 2020 and June 2027. Only three lessors outside the top 20 have Max orders: Kuwait's ALAFCO with 40 orders, as well as Russia's Sberbank Leasing and VEB Leasing with 14 and 20 orders, respectively.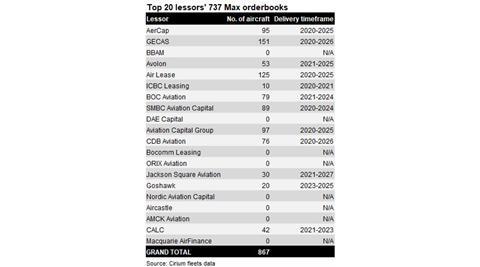 Morris says more than 700 of the 940 have no known placement, and among these, 300 are due to deliver through 2022 – a period which will have huge uncertainly around new aircraft demand and thus make the planes challenging to place.
"[737 Max jets] are also likely to face significant competition from aircraft already in lessors' portfolios that are either scheduled to return off lease or may return as a consequence of default (albeit these will be 737NG and Airbus A320ceo in the main)," he says, adding that lessors are likely to get low lease rate factors.
"Hence, perhaps better to cancel now (and maybe even take the financial hit of doing so) rather than defer and potentially suffer escalation which might only further exacerbate the problem. If the Max turns out to be a success, perhaps lessors can then return for orders in 2023."
Though the Max has dominated discussions since its global grounding in March 2019, it is not the only aircraft type where orders from lessors could be under threat.
"Although A320neo family doesn't have the same technical issues (and thus delays) as Max, the demand dislocation created by Covid-19 is the same. There are 15 lessors which Cirium fleets data indicates have around 480 A320neo family aircraft scheduled for delivery through 2022," Morris says.
He adds: "Although we have indications that at least half of them have known placements, that still leaves as many as 240 to be placed in this soft market. Plus the default risk is the same. So there is clearly risk that some lessors will be seeking to defer or cancel some of these as well."
Despite stress in the market, there are ways that manufacturers and lessors can come to a mutually agreeable compromise.
In times of stress, OEMs may be willing to trade concessions on lessor orderbooks in exchange for those lessors stepping up and financing airline customers that will either be difficult to finance or where the OEM might otherwise have to step in itself to provide financing.
"In this context," Morris says, "lessors and OEMs are partners and the potential to flex the OEM backlogs potentially works for both parties."