European low-cost giant Ryanair has pushed back its long-term growth target of reaching the 200 million annual passenger mark by up to two years after resigning itself to not receiving its first Boeing 737 Max aircraft until after this summer.
Ryanair had originally been due to receive its first 737 Max 8 in April 2019, but Boeing suspended deliveries in March in the wake of the jets' global grounding. Amid the type's continued grounding, the airline last December had already cut back it expectations for the type's entry into service, expecting no more than 10 aircraft would arrive in time for this summer.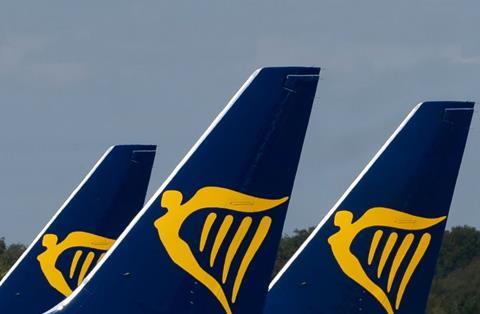 "It is now likely that our first Max aircraft will not deliver until September or October 2020," Ryanair says. "The requirement for Max simulator training will also slow down the delivery of backlogged aircraft and new deliveries.
"As a direct result of these delivery delays, we plan to extend our 200 million per annum passenger target by at least one or two years to FY25 or FY26," the carrier says. The Irish airline handled 152 million in the 2019 calendar year, including around 6 million at its Lauda unit.
Ryanair detailed the outlook after today confirming its improved guidance for its current financial year following a stronger-than-expected Christmas and New Year period. It reiterates it expects to finish the current financial year at the midpoint of its new group net profit range of €950 million to €1.05 billion ($1.05 billion to $1.16 billion).
The low-cost carrier turned in a pre-tax profit of €82 million for the quarter ending 31 December 2019, compared with a loss of €84 million for the same period the previous year.
"Q4 forward bookings are 1% ahead of this time last year at slightly better-than-expected average fares and we now expect full-year traffic to grow by 8% to 154 million guests," its says of its expectations for the year ending 31 March 2020.