As chief financial officers were putting the finishing touches on the annual accounts that form the basis for the latest Top 100, none were imagining the economic carnage that will make the current year's figures run with red ink. Our 2019-2020 report reflects a 12-month period that – Boeing's crisis with the 737 Max aside – still saw aerospace in a climb, although growth in revenue among the Top 100 companies was more sluggish than in 2018-2019 – and profits fell.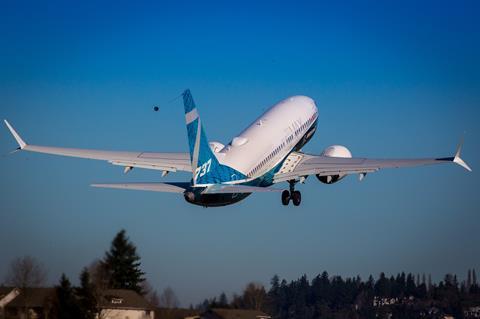 As 2020 got under way, there were concerns about a mysterious virus emerging in the Chinese city of Wuhan that was beginning to affect air routes into and within the country. But elsewhere, around the world, business travellers' schedules were packed with trips to clients, conventions and corporate meetings, while others were making plans for vacations or visits to friends and family. Flying was as popular as ever and airline orderbooks – and profits – remained strong.
Top 5 aerospace companies by revenue 2019 ($ millions)

Rank
Company name
Movement in ranking from 2018
Sales (revenue) 2019
Sales (revenue) 2018
Operating profit 2019
Operating profit 2018
Operating margin 2019
Operating margin 2018
1
Airbus
1
78,900
75,100
1,500
5,960
1.9%
7.9%
2
Boeing
-1
76,600
101,000
-1,980
12,000
-2.6%
11.9%
3
Lockheed Martin
0
59,800
53,800
8,550
7,340
14.3%
14.3%
4
United Technologies
0
46,900
36,000
5,770
3,570
12.3%
9.9%
5
Northrop Grumman
1
33,800
30,100
3,970
3,780
11.7%
12.6%
The new Top 100 resembles a snapshot from another era, with the majority of firms reporting hikes in revenue and profitability. There is one notable exception. For only the second time this century, Airbus has taken over the prime position from Boeing, after a year in which the Chicago-based firm was hammered by the 737 Max's grounding. While Airbus's revenues nudged up from $75.1 billion in 2018 to $78.9 billion, Boeing's plunged by one-quarter, from $101 billion to $76 billion.
Boeing's losses of almost $2 billion, compared with operating profits of around $12 billion in 2018, have helped to drive overall profit growth for the Top 100 into negative territory. While the vast majority of Top 100 companies for which figures are available were profitable, for many, that growth was slower than in the previous year, offering a hint that 2020, without the pandemic, may have seen the start of a down cycle for an industry that had enjoyed a sustained growth spurt.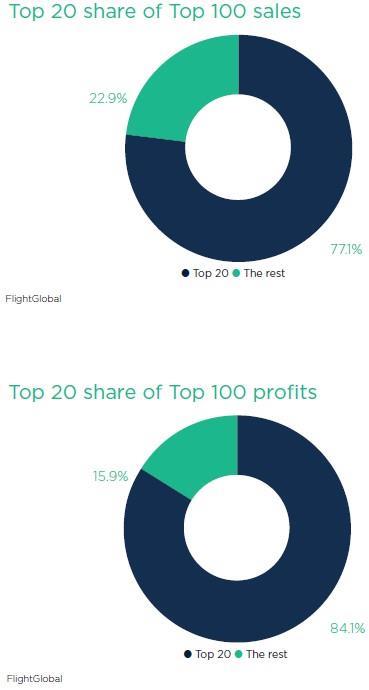 Other significant changes from the previous year have been driven by consolidation – the most significant being United Technologies' absorption of Rockwell Collins. It preceded 2020's even bigger merger of United Technologies and Raytheon, which is not reflected in the latest survey. The aerospace business of United Technologies – as was – remains in fourth place, behind Lockheed Martin, but its revenues increased from $36 billion in last year's ranking to $46.9 billion.
We will never know what sort of year 2020 would have been for the biggest aerospace companies had there been no coronavirus. Top 100 revenue growth in 2019 at 3.5% was ahead of the 2.9% increase in global GDP, but down on the 8.2% achieved in 2018. Profitability – for those companies for which information is available – fell by 11.1%, from growth of 20.6% the previous year. Average operating margins were 9.4%, compared with 11.3% for 2018.
Other restructures included the merger of Harris and L3 Technologies during 2019. That saw the new L3Harris move into the Top 10 at ninth place, with revenues of $18 billion, up from $10.2 billion and 13th spot for L3 last time. Parker Hannifin's acquisition of Lord nudges it into the Top 40 at 39, with $2.5 billion sales. Meanwhile, the TransDigm and Esterline union sees the former move up to 26th place with $5.2 billion revenues. It was 32nd in the previous survey.
The creation of the new Raytheon Technologies (legacy Raytheon plus the former United Technologies businesses of Pratt & Whitney and Collins Aerospace), completed this April, could see the new behemoth overtake Lockheed Martin in third place in next year's rankings – although much depends on how badly Raytheon Technologies' civil activities will be hit by the crisis. In this year's survey, the two companies had a combined aerospace turnover of around $76 billion.
There are signs, however, that mergers started to go out of fashion in 2019-2020, although whether the downturn brought on by coronavirus leads to consolidation longer term remains to be seen. In April, a troubled Boeing called off its $4.2 billion takeover of Embraer's commercial airliner division, which had been due to complete this year. It left Embraer, which moves up three places to 25 in this year's ranking, furious as the Brazilian group had viewed the deal as crucial to its future.
Elsewhere, Hexcel and Woodward, ranked 45 and 50 respectively in the latest sales table, called off their planned merger in April, just three months after announcing it, blaming the impact on sales from the coronavirus pandemic. All things being equal, that would have created a business with combined revenues of close to $4 billion. Seventeenth-placed Spirit AeroSystems' acquisition of ASCO Industries at 97, remains pending, as it has for two years.
Another Spirit takeover – that of Bombardier's aerostructures operation – is also still on chief executive Tom Gentile's to-do list after it was announced almost a year ago. The Wichita-based company said recently that it was continuing "in discussions on conditions needed" to close both deals. The Bombardier one, which would see factories in Belfast, Mexico and Wichita and the know-how behind the Airbus A220 composite wing transfer to Spirit, is due to expire on 31 October.
Bombardier itself remains 18th with $7.5 billion revenues, despite a series of divestments that have included shedding its Dash 8 turboprop and CRJ regional jet programmes to Longview Aviation Capital and Mitsubishi Heavy Industries, respectively. Airbus took a majority stake in the former Bombardier CSeries in 2018, and now makes the small narrowbody as the A220. Once the aerostructures sale goes through, Bombardier – which is also exiting the rail transport segment – will be left as a business jet manufacturer.
Investment vehicle Longview, placed at 90, is one of seven new entrants in this year's survey. As well as the Dash 8-400, now manufactured at Bombardier's factory in Toronto under the De Havilland Canada brand, Longview has also acquired the former Bombardier CL215/415 amphibious firefighting platform, in addition to the DH-6 Twin Otter turboprop that was launched by the original de Havilland, and is now offered by Longview's Vancouver Island-based Viking Air subsidiary.
Other entrants include: Aciturri, a Spanish maker of aerostructures and engine components, which anchors the Top 100 at number 100; Albany Engineered Composites, an Albany International unit that manufactures composite structures and textile pre-forms (95); Aubert & Duval, part of Eramet, a specialist in steel, superalloy, aluminium and titanium forging (92); and TECT Aerospace (96), a division of private US company TECT, that manufactures high-precision components and assemblies.
The two highest new faces are, at 51, PPG, part of PPG Industries and a supplier of adhesives, coatings, sealants and transparencies; and, at 31, Hanwha Group of South Korea subsidiary Hanwha Aerospace, which manufactures aircraft engine modules and parts and assembles aircraft engines. Its industrial partners include Pratt & Whitney, and in 2019 it expanded its industrial footprint to the USA with the acquisition of US engine component specialist EDAC Technologies.
Three of the seven new entrants – Aciturri, Albany Engineered Composites and Longview – have made it into the Top 100 by virtue of their 2019 improved sales performance. The other four are included this year as part of our ongoing review of eligible companies. Three companies featured last year failed to make this year's threshold of $372 million in revenue: ShinMaywa of Japan, US industrial gas group Linde (formerly Praxair), and UK ejection seat manufacturer Martin-Baker.
As always, the aerospace sector remains dominated by its biggest names, with the Top 20 businesses behind 77% of the overall Top 100 sales – up from 63% last time – and 84% of the operating profits, compared with 68% for 2018. Despite Boeing's $25 billion drop in revenues, and losses of almost $2 billion, the largest 20 businesses saw their revenues increase by an average of 4%. That said, at the bottom end, the smallest 20 companies enjoyed sales growth of over 10%.
The Top 20 itself has a familiar look. L3Harris's jump up the rankings sees Rolls-Royce, Leonardo, Honeywell, and BAE Systems all slip one place. A good year for military sales for Dassault Aviation has seen it vault eight places from 24 to 16, while Rockwell Collins, 15 last year, drops out following its takeover by United Technologies. Despite its Boeing exposure, Spirit AeroSystems moves three places up the rankings to 17, while General Dynamics Aerospace is two higher at 14.
The number of Top 100 companies posting revenues in excess of $1 billion has actually fallen by one, from 67 last time to 66 in the latest survey. London-listed Senior, an engineering company that is a tier one and tier two supplier to the likes of Airbus, Boeing, MTU Aero Engines and R-R makes it over the line by $70 million. Sales of $372 million were enough to lift the lowest-ranked company, Aciturri, into this year's rankings.
The effect of the pandemic on the global economy is likely to depress both air travel and military spending for some years, even if a vaccine or effective treatments come on the market. How long will it be before any company again makes it over the next major threshold – a turnover of $100 billion – as Boeing did in 2018? Barring a remarkable recovery for aerospace, top-placed Airbus's $78.9 billion revenues this time may be a high water mark for the industry until well into the 2020s.
Notes to the Top 100
The information used in preparing the report has been obtained solely from company annual reports, public filings and other publicly available information.
Companies have been ranked for their financial year 2019 or 2019-2020. As far as possible we have sought to obtain representative figures for aerospace turnover. Companies involved predominantly in aviation services, finance and MRO have been excluded. Sectors involved with aero engines, aerostructures, aircraft, avionics, missiles and space are largely straightforward, but network-centric, telecommunications and command, control, communications, computers and intelligence systems, as well as some overhaul operations have been included only when these are largely concerned with aerospace activities. Satellite services have been excluded wherever possible, as have companies and divisions that derive more than half their revenues from services such as leasing. Joint ventures have been included in the financials. Intersegment sales have been excluded from operating results and profits for divisions where possible. When not possible, divisional results have been presented inclusive of interdivision sales, which may result in aerospace revenues greater than group sales.
Generally, the profit (or loss) is before interest, tax and exceptional items and after deduction of depreciation. Discontinued or discontinuing operations have been included where they fall in fiscal year 2019 for that business.
Average dollar exchange rates for the periods 1 January 2019 to 31 December 2019, and 1 January 2018 to 31 December 2018 have been used for all non-US companies, regardless of fiscal year definitions. The source for the exchange rate information was the US Inland Revenue Service (IRS). The percentage annual changes in financial figures has been given in local currency terms to avoid unnecessary distortions. There was movement in the average dollar exchange rates between 2018 and 2019. To eliminate exchange rate effects, we have calculated percentage increase in revenues and profits for companies in local currencies.
When looking at all companies, we have revisited our assumptions on what should be included as aerospace sales, and in some cases, we have changed our assumptions. Where we have done this, we have used the same assumptions for both 2018 and 2019.
When showing the movement in ranking, we have compared this year's ranking to the ranking in last year's survey, so ignoring the new entrants had they been in last year's survey and any restating of results.
In some companies that report the proportion of their sales that are aerospace, the aerospace sales are spread across business units that do business across a number of sectors, of which aerospace is just one. In such cases, it is not possible to give a profit figure that corresponds to aerospace sales.
Seven companies in this year's survey do not produce any estimates for their aerospace sales, which are in the public domain. We have included them because they are sizeable and important companies and we have used our industry knowledge and best estimates to arrive at estimated sales figures:
Chromalloy (71) is a provider of advanced coatings and authorised repairs and parts for gas turbine engines. It is part of Sequa Corporation, which is owned by Carlyle.
Hutchinson (87) has total sales of €4.1 billion ($4.8 billion) across all sectors and is a subsidiary of the French oil company Total. In aerospace, it is a significant supplier of equipment across airframes, engines and cabin systems, such as insulation.
Nordam (88) is a private US company and a significant supplier of aircraft nacelles, business jet interiors and transparencies.
PPG Aerospace (51), part of PPG Industries, is a leading supplier of adhesives and sealants, coatings and transparencies.
Precision Castparts (19) is a US company owned by Berkshire Hathaway.
Sierra Nevada (47), a private US company, has a range of businesses including avionics, aircraft modification and support, cybersecurity and space systems.
TECT Aerospace (96) is a business unit of the private US company TECT and manufactures high-precision, complex components and assemblies.
Two Russian companies, United Aircraft (21) and Rostec State (20), have not released financial results since their 2017 annual reports, so we have assumed the same results as in 2017 in the local currency (roubles). Any changes in dollar figures since then are solely the result of currency fluctuations.
The Top 100 is compiled on behalf of FlightGlobal by Counterpoint Market Intelligence. Contact richardapps@cpmil.com
Supporting documents
Click link to download and view these files
PDF, Size 0.49 mb

PDF, Size 0.49 mb

PDF, Size 0.49 mb
Top 100 aerospace companies ranked by revenue
1

Currently reading

Top 100 aerospace companies ranked by revenue

2

3

4

5

6