Guy Burden has a passion for selling, starting his career in the car industry before moving into aviation. He is now director of international private brokerage Equus Global Aviation, dealing in business aircraft and commercial airliners
What sparked your interest in aviation?
My grandfather was in the Royal Air Force and I developed the interest from him. He introduced me to the delights of the Avro Vulcan and the Red Arrows, as he ran the old British Aerospace site at Bitteswell, UK.
How has you career progressed?
After college I joined Vauxhall Motors, then sales and marketing with Jaguar Cars and one of their showrooms in central London. Selling cars is probably the best job in the world (apart from selling aircraft) because it teaches you so much – engaging with strangers, establishing a relationship, proper selling techniques, negotiating, overcoming objections, closing the sale, specifying the products and managing the sale through to delivery and beyond. At the higher end (luxury cars and private jets) you develop long-term "consultative" relationships with customers. You also learn that, if you provide great service, buyers will return again and again. After Jaguar, I joined BAE Systems on the Hawker 125 as a sales executive, progressing to salesman for Brazil and then to manage our pre-owned portfolio. BAE trained us properly – pilot/ground school and traditional aircraft performance using manuals. I later joined Bombardier as a sales and marketing director, with a team of 11 people scattered across the world. We had a jet card product (like NetJets) and our brief was to expose new users to the family (Challenger, Global and Learjet) in the hope that they would then move up to a whole aircraft purchase. By the time I left, my team had also generated 11 whole aircraft sales as a result of our tree-shaking, which was a big result for the company. In 2010, I started an aircraft leasing company in London before selling out in 2015. Alongside my aircraft trading, I also do consultancy projects outside the industry; I have advised on a new luxury powerboat project, a Caribbean hotel turnaround and a tractor manufacturer that wanted to launch its products into the UK.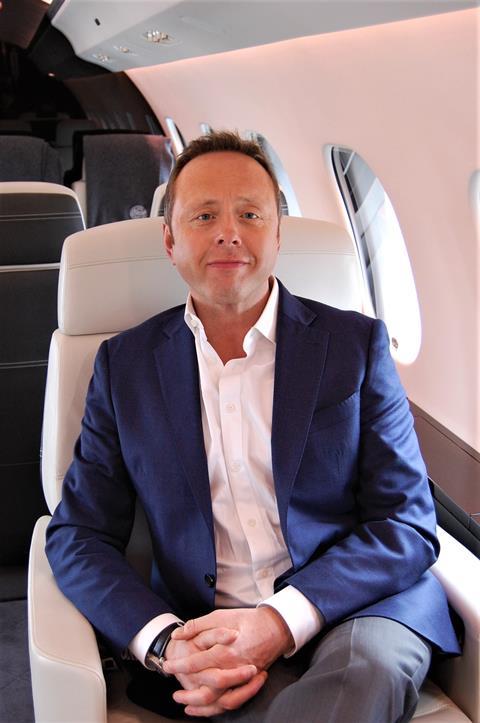 'You live or die by the strength of your network,' says Burden
What are the highlights?
Closing a transaction; you get that huge sense of satisfaction, especially if a transaction has been complex. The money is nice but, for me, it's more about having a happy customer and feeling that you've provided a great service for them.
What is Equus Global Aviation?
We are a private brokerage business, particularly strong in the VIP airliner/large-cabin category. We also source airliners for start-ups and have done well with acquisition mandates – we recently replaced an entire VVIP flight department that included Airbus A318, A319, A340 jets and several Gulfstreams. That kept us all busy for a couple of years.
What are your responsibilities?
We all have our own listings and buyers so we work independently and, because of that, I can be doing everything from populating databases and preparing aircraft specs and letters of intent, to showing aircraft to principals, negotiating contracts and overseeing refurbishments. You have to be versatile and get on with whatever is thrown at you, so a good all-round knowledge of the product and the industry is essential.
How is your business faring in the current climate?
Anyone who says they are doing well is not being entirely honest. You live or die by the strength of your network and, between the four of us, we have more than 100 years of combined experience and contacts, so we are keeping our heads above water and not too stressed at the moment. We also have very low overheads, but it will not be our best year, for sure.
What do you enjoy most about your job?
Variety. One day you have a buyer for a 20-year-old Challenger, the next it's someone who needs a new Airbus, or a start-up airline needs some aircraft for specific routes and within a very strict budget. Suddenly you're on a flight to the other side of the world and you have a strict schedule in place for a principal to view an aircraft at an unfamiliar location and with people you have never met. You have to think on your feet and be highly organised.
What are the challenges?
Because of my background, I understand the value of qualifying everything – buyers, sellers and their specific requirements. People underestimate the value of proper qualification – it saves everyone huge amounts of time (and money) later down the line and, if there is an issue of some kind, it washes out much sooner if you ask all the right questions at the beginning of a process.