General Atomics Aeronautical Systems has completed the first of four MQ-9A Block 5 Reapers for the Royal Netherlands Air Force.
The aircraft was rolled out during a ceremony at the company's Poway, California headquarters. General Atomics says it has also completed a ground control station for the unmanned air vehicle (UAV).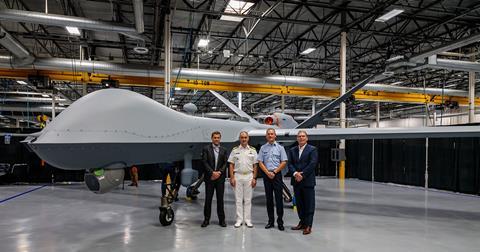 The aircraft will begin acceptance testing at General Atomics' Gray Butte Flight Operations Facility near Palmdale, California in early 2022.
"We are proud to begin this new relationship with the Royal Netherlands Air Force," says company chief executive Linden Blue.
"With millions of hours of proven performance under its wings, the MQ-9 is ideally suited to support their nation's [intelligence, surveillance and reconnaissance] needs. The Netherlands now joins the United Kingdom, Italy, France and Spain as NATO countries operating our advanced [remotely piloted aircraft], with Belgium coming online in the next few years."
In March 2019, General Atomics secured a $123 million contract from the US government to provide four Reaper UAVs, ground control stations, spares, and support equipment for the Netherlands. The deal was conducted via the US government's Foreign Military Sales programme.
The initial US Department of State approval for the deal came in 2015, and the Netherlands officially announced the order in July 2018 at the Farnborough air show.
According to General Atomics, the MQ-9A Block 5 has an endurance of 27h, and can operate at altitudes up to 50,000ft. It can carry a 1,750kg (3,850lb) payload, of which 1,360kg are external stores. In addition to a full-motion video capability, it features a synthetic aperture radar, moving target indicator, and maritime radar.