Lufthansa Group chief executive Carsten Spohr is not ruling out a possible future part-sale of the airline's MRO arm, but stresses that the group intends to remain the majority shareholder as the technical division is "close to our heart".
Speaking during a first-quarter results briefing on 3 June, Spohr confirmed that an initial public offering for shares in Lufthansa Technik had been discussed as an option prior to the coronavirus crisis. Noting existing co-operation arrangements with manufacturers and other airlines, Spohr says an alternative option could be to merge parts of LHT with another party.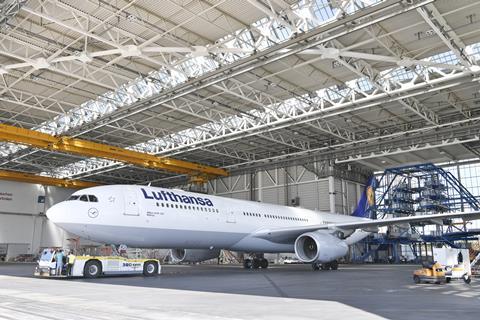 LHT has separate, jointly owned engine overhaul shops with GE Aviation, MTU and Rolls-Royce. Additionally, the German MRO provider has established close partnerships with multiple OEMs for certain products and services. A shareholding in Air China's maintenance centre Ameco was among Lufthansa's early MRO investments, prior LHT's establishment in 1995.
Spohr says: "Can I imagine to bring part of [LHT] to the stock exchange or merge some of it with a partner? Yes." But he rules out the possibility of divesting LHT's entire shareholding. "Lufthansa Technik is part of our core… It's close to our heart. We will not give that up easily at all."
He says the coronavirus crisis has put any ownership-change evaluations on hold as "the market at this point of time is the wrong one to do any divestment".
However, the possibility of part-divestment could return to the table if conditions improve and divestment opportunities arise, Spohr indicates. "It's good to have that value [LHT] in the company. And the options we had before corona might be the options we have after corona."
LHT's adjusted EBIT declined to €4 million ($4.5 million) during the first quarter, from €123 million in the same period of 2019. Lufthansa says that lost income from hour-based service agreements with third-party airline customers that are flying less or not all because of the pandemic is "increasingly having an impact on Lufthansa Technik".
As part of restructuring measures, LHT's line-maintenance business has been transferred to Lufthansa Group. "[Line maintenance] is now part of the network airlines business segment," it says.
Last year, Lufthansa agreed to sale of its European catering business LSG to GateGroup. That deal was cleared by the European Commission in April, but hasn't been closed yet as it hinges on the sale of certain GateGroup divisions, Lufthansa notes in its quarterly report.
Lufthansa also intends to divest its international catering operations. But the sale effort has been put on hold because of the pandemic.
The group intends to divest non-core activities as part of strategy to improve its cash position and repay loans provided by the governments of Germany and Switzerland in the wake of the coronavirus crisis. Talks between Lufthansa and the governments of Austria and Belgium are under way to provide financial support for group subsidiaries in these countries.