Lufthansa Group is making preparations for responding to enquiries from investors interested in taking a stake in its MRO division.
Earlier this year, group chief executive Carsten Spohr said management had considered the possibility of an initial public offering for Lufthansa Technik, or of a strategic partnership with another party. He has repeatedly said that Lufthansa Group would remain LHT's majority shareholder in any ownership rejig.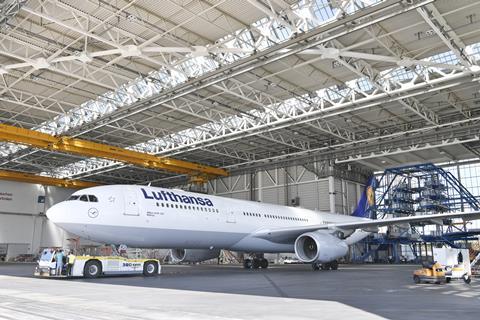 Speaking during a results briefing on 5 November, Spohr said the group was in the process of internally clarifying technical and legal questions for a potential investment in LHT.
This is likely to include the status of LHT's joint ventures and partnerships with several manufacturers, MRO providers and customers, and the effect a new shareholder might have on these co-operations.
LHT has, for example, separate engine overhaul shops that are jointly owned with GE Aviation, MTU and Rolls-Royce. Additionally, the MRO provider has established close partnerships with multiple OEMs.
A shareholding in Air China's maintenance centre Ameco was among Lufthansa's early MRO investments, prior LHT's establishment in 1995.
Spohr says LHT is preparing information "to respond to questions that we expect from potential investors" about the MRO provider's operation, but adds that the group will "certainly wait until the market has normalised" and a "proper price" can be demanded.
"We don't need to make fire sales," Spohr says, repeating remarks he made in August. He describes LHT as a "jewel" in the group's portfolio and says "value comes before time".
He adds that observers shouldn't count on group announcements about a potential LHT ownership rejig in the short term.
LHT slid to a €86 million ($102 million) adjusted EBIT loss in the third quarter ended 30 September, from a €116 million profit in the same period 2019. Across the first nine months, LHT made an adjusted EBIT loss of €208 million, versus a €315 million profit last year.
Lufthansa Group says LHT deferred tax of €239 million to 2021 as part of cost-saving efforts amid the pandemic.