SR Technics will concentrate its business on engine services and line maintenance under a restructuring programme with Swfr120 million ($125 million) of fresh financing backed by the Swiss government.
The MRO provider says the additional credit line – provided by an "existing consortium of lending banks", and supported by a 60% surety from the Swiss Confederation – improves its liquidity and "ensures its long-term future".
Agreements with the banks and government were finalised on 16 July, the Zurich-based company notes.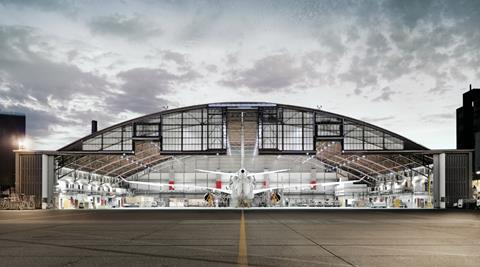 It says management has decided to "strategically reposition the company with a clear focus on engine services and line maintenance as both have demonstrated consistent profitable growth prior to the crisis and are relevant to the aviation supply network in Switzerland".
Other activities will be conducted by "independent subsidiaries" to ensure "a stronger and sustainable company", it adds.
Design engineering activities will be discontinued by year-end, and the MRO provider's hour-based component maintenance programme is being "progressively reduced".
SR Technics will maintain a "transactional component business with a stronger focus on component repairs and trading activities".
In addition to engine and components shops at its Zurich headquarters, SR Technics has a base maintenance hangar in Malta – where a new, larger hangar is under construction – as well as an engine aerofoil repair shop in Irish city Cork, a component maintenance facility near Malaysian capital Kuala Lumpur, a wheel-and-brake shop in Spanish capital Madrid, and a shared-services facility in Belgrade in Serbia.
Its total workforce stands at more than 2,800 employees, the company's website indicates.
SR Technics' line-maintenance network comprises stations across Switzerland, the UK, Spain and Malta.
The MRO provider – owned by China's HNA Group – has previously taken restructuring measures, and says it made a "successful turnaround and [achieved] solid financials in the last years".
In 2019, HNA launched a bidding process to divest SR Technics, amid a wider effort by the Chinese group to sell subsidiaries. SR Technics' sale was later put on hold.
Business during the first quarter "started… strongly with results ahead of expectations", SR Technics says. But as airlines grounded aircraft in April amid the coronavirus crisis, the MRO providers faced a "significant decline" in demand.
Short-time working was implemented to preserve cash. However, deeper restructuring was necessary "to preserve the long-term financial health of the company in a changed market environment".
Chief executive Jean-Marc Lenz states that the focus on engine services and line maintenance is a "necessary step to ensure our long-term sustainability and to provide added value to our customers".