Aeromexico and LATAM Airlines Group have agreed to a code-sharing partnership under which Aeromexico's flights to the USA will carry LATAM flight codes.
The Mexican airline disclosed the partnership in a 26 January regulatory filing with the US Department of Transportation.
In that document, Aeromexico requests that the US government approve the plan quickly, saying the airlines intend to implement it "in the near future".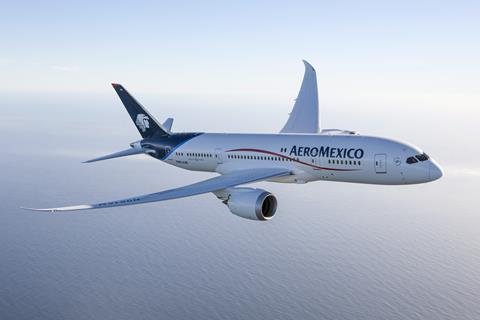 Aeromexico intends only to carry LATAM codes on flights that originate outside of Mexico, stop in Mexico City and continue to the USA. That means Aeromexico will not market LATAM-coded flights to passengers travelling solely between the USA and Mexico.
Initially, the deal will apply to Aeromexico's flights to Chicago, Denver, Houston, Las Vegas, Los Angeles, Miami, New York, Orlando, San Antonio, San Francisco and Seattle, it says.