Latvian carrier Air Baltic is to open a base in the southwestern Finnish city of Tampere, expanding its footprint beyond the Baltic states for the first time.
From May 2022, Air Baltic will operate direct flights from Tampere to Oslo, Copenhagen, Frankfurt, Munich, Malaga and Rhodes, alongside its established Riga service, the carrier said on 14 December.
One aircraft from the airline's all-Airbus A220-300 fleet will be based at Tampere, Air Baltic states, complementing those based at Riga, Tallinn and Vilnius.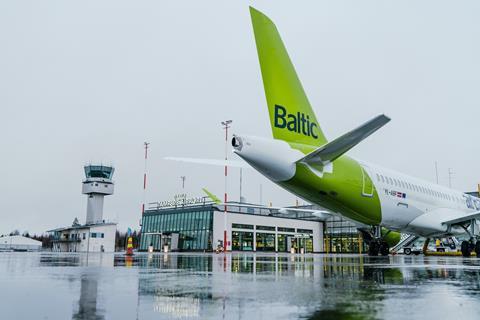 "We have been performing direct flights from Tampere to Riga for almost five years now," says Air Baltic chief executive Martin Gauss. "Our decision to open a new base in Tampere shows our strong commitment to this city, and will offer more convenient and affordable travel options for many Finnish passengers."
Speaking to FlightGlobal in late 2019, Gauss noted the airline's intention to potentially "place aircraft outside the Baltics", saying that there was a "50 aircraft limit" on A220s based in the Baltic states "for the year 2025", according to demand projections at the time.
HOW TAMPERE CONNECTIVITY HAS CHANGED
Cirium schedules data shows that Air Baltic's choice for its first non-Baltic-state base has been hit hard by the pandemic.
Pre-Covid, in December 2019, some 267 flights touched Tampere, with more than half undertaken by Finnair with its Helsinki service. SAS served Stockholm from the airport, while Air Baltic was the only other operator with its Riga service.
In December 2021, just 40 flights are listed at the airport, with the majority operated by Air Baltic and Ryanair – which has recently reinstated the twice-weekly London Stansted service it dropped in 2019 – alongside four TuiFly flights serving Gran Canaria.
Finnair and SAS due to return to Tampere in Spring 2022, data shows.
Cirium schedule data also shows that in the early 2010s, Ryanair operated to a number of destinations from the airport but scaled back its flying towards the middle of the decade. In July 2011, for example, data shows 17 destinations being served from Tampere – 13 of them by Ryanair. By July 2015, however, carriers were serving just five destinations from the facility, and numbers stayed around that level until the pandemic hit.