American Airlines intends in October to begin codesharing with Indian carrier IndiGo, a partnership aligning with American's planned launch of flights to the country.
Under the agreement, Fort Worth-based American will place its code on New Delhi-based IndiGo's flights serving 29 domestic Indian routes – roughly half each out of Delhi and Bengaluru, American says on 28 September.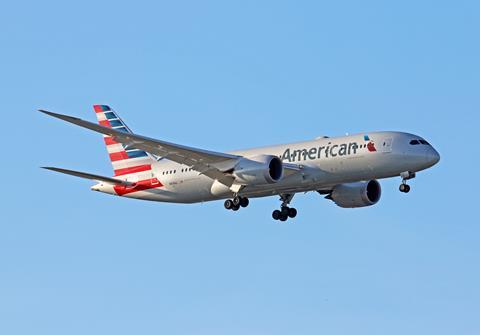 The deal remains subject to approval by the US and Indian governments. It will enable American to sell tickets to "all four corners of India", says American chief revenue officer Vasu Raja.
The IndiGo flights will connect with two soon-to-launch American routes. The US airline plans to begin flights from New York JFK International and Delhi on 31 October, followed by flights from Seattle to Bengaluru on 4 January 2022.
The IndiGo codeshare covers flights to places such as Ahmedabad, Amritsar, Chennai, Hyderabad, Kochi, Kolkata, Lucknow, Jaipur, Pune, Mangalore, Mumbai, Thiruvananthapuram and Vijayawada.