Berlin airports operator FBB has announced the completion of operating tests at the city's much delayed new airport, meaning it has achieved all the steps necessary to open later this month.
Since April, the operator has been running twice-weekly operational tests at the airport to the southeast of the German capital. In total, 24,000 staff and almost 10,000 volunteers took part in the test across 47 days, the operator said on 19 October.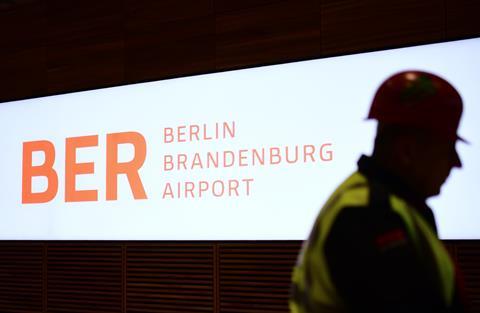 As a result of the feedback received, rubbish bins have been made bigger, signage has been adjusted, and more clocks and mobile-phone-charging stations have been installed.
The airport is scheduled to open on the evening of 31 October, with the simultaneous arrival of jets operated by Lufthansa and EasyJet, the two biggest airlines serving Berlin. The first departures will follow on 1 November.
"Our main aim of the operational tests was achieved: out of a completed building, we have created an airport that is ready for operations," states FBB chief executive Engelbert Lutke Daldrup. "We can open BER on 31 October in good faith."
It has taken years longer than originally planned for the new airport – named for former chancellor Willy Brandt and located adjacent to the existing Schonefeld airport – to get to this stage.
A planned opening in 2012 was called off with just weeks to go, owing to problems with the fire-protection systems. Further construction issues and budget overruns have since plagued the project. As air traffic to Berlin boomed in recent years, FBB decided to build an additional terminal and continue using Schonefeld to boost capacity.
However, the traffic downturn caused by the Covid-19 pandemic means that the airport will not have to operate at full capacity when it opens.
This also provides some breathing room to deal with teething problems that may arise during the first days of operation.
FBB expects around 5,000 passengers to pass through Terminal 1 on 1 November, the first full day of operation, and a further 8,000 at Terminal 5, the former Schonefeld airport. The southerly runway will commence operations on 4 November and the move to the new airport will be complete when the final flights leave Tegel airport on 7 November. On 8 November, FBB expects around 16,000 passengers in Terminal 1 and almost 8,000 in Terminal 5.
These numbers are much lower than would usually be expected in autumn, says the operator. "Should problems occur during the first few days, there is enough capacity to deal with any issues quickly," it notes.
The opening of London Heathrow airport's new Terminal 5 building back in 2008 descended into chaos amid operational problems, mainly with the baggage system, which forced the cancellation of hundreds of flights and left a huge backlog of baggage to sort through.