Emirates has upgauged the aircraft deployed for its newly restarted Dubai-Moscow service to an Airbus A380.
The Middle Eastern carrier resumed twice-weekly flights to the Russian capital on 11 September using a Boeing 777-300ER, but now says it will operate the route with an A380 from 18 September to meet "strong passenger demand".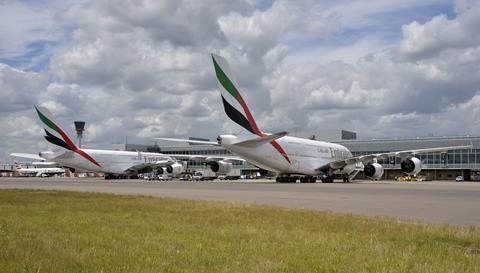 Moscow will join Cairo, Guangzhou, London Heathrow, Paris and Toronto as cities served by Emirates with A380 equipment. The airline says it will "gradually expand" deployment of the double-deck aircraft "in line with demand and operational approvals".
Emirates began reactivation of its A380 fleet in mid-July, reintroducing the superjumbo on flights to London and Paris. The airline's 115-strong fleet of A380s had been parked since late March as a result of the Covid-19 pandemic.
While weakened demand for air travel has led other airlines to exclude the A380 from their operations – either in the short term or altogether – Emirates has stood by the type.
Air France disclosed in May that it would not return its A380s to service and would accelerate its retirement plan for its remaining nine of the aircraft. Lufthansa, Qantas and Qatar Airways have not been in a hurry to reinstate A380 operations, and media reports suggest the German carrier could eliminate the type entirely.
Cirium fleets data shows that Emirates has 13 A380s in service, 102 in storage and eight on order.