The European Commission is preparing common passenger testing, quarantine and tracking practices for member states to help ensure safe travel as it battles the Covid-19 pandemic.
"Free movement within the EU and the border-free Schengen area are prized achievements of European integration – the Commission is working to ensure that travel within Europe is safe both for travellers and for their fellow citizens," it says.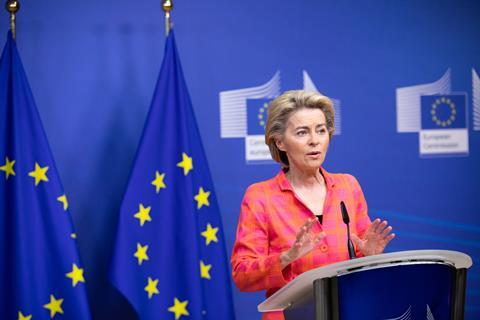 European airlines have seen fledgling hopes of a recovery in air travel dashed by a patchwork of new quarantine restrictions and lockdown measures. On 28 October, France and Germany announced new nationwide lockdowns to curb rising infections.
Among measures announced by the Commission today, the European Union Aviation Safety Agency (EASA) is working with the European Centre for Disease Prevention and Control (ECDC) on a testing protocol for travellers, while the Commission plans to draw up a common approach to quarantine practices with member states and other agencies.
The Commission says it also intends to create a common EU digital Passenger Locator Form, with a pilot scheme to run next month.
In addition, the Commission will present guidance to member states on which categories of traveller should be considered essential and therefore free from restrictions on non-essential travel from non-EU countries into the EU.
Airlines For Europe (A4E) is calling on EU member states to invest in quick and reliable Covid tests to restore European travel, and says quarantine measures or restrictions on movement should be used only as a last resort.
"A4E believes that establishing a European testing protocol for travel and relying on rapid antigen tests would provide a solution for restoring traveller confidence," it writes in a newly updated position paper.
The airline association says any measures should take into consideration different risk profiles among travellers. For example, A4E argues that business travellers and those on package holidays should be classed as lower risk because they typically have less contact with local populations.
The Commission's announcement on safe travel plans was made as part of a range of new measures on limiting the spread of the virus. European leaders are today holding a virtual meeting on Covid-19 co-ordination.
"Today we are launching additional measures in our fight against the virus; from increasing access to fast testing, and preparing vaccination campaigns to facilitating safe travel when necessary," states European Commission president Ursula von der Leyen. "No member state will emerge safely from this pandemic until everyone does."