European aviation industry representatives have warned of "chaos" at airports this summer unless EU member states take a co-ordinated approach to implementing the bloc's Digital Covid Certificate, which is set to enter force on 1 July.
In a 28 June joint letter to EU heads of state and governments, ACI Europe, Airlines for Europe, the European Regions Airline Association (ERA) and IATA call for the Digital Covid Certificate (DCC) to be "fully and seamlessly integrated in the passenger journey", and for verification of passengers' Covid-19 status and passenger locator forms to be carried out "well in advance of departure" and before arriving at the airport.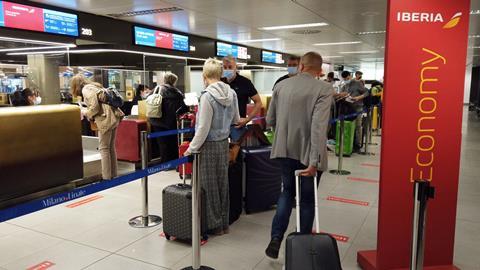 The DCC will enable travellers from EU member states to enter details on whether they have been vaccinated against Covid-19, recently tested negative for the virus, or recovered from the disease, in order to enter other EU countries without facing quarantine restrictions.
However, ACI Europe says it has seen "no less than 10 different national approaches" to implementing the certificate, and warns that duplication of document checks at airports could increase check-in processing times.
Conducting DCC verification digitally, before passengers arrive at the airport, and integrating it with the passenger locator form in a state portal is essential "to avoid long passenger queues and waiting times which would create new health hazards and inevitably result in operational issues for airports and airlines", say the four industry bodies in their joint letter.
"As passenger traffic increases in the coming weeks, the risk of chaos at European airports is real," they add. Different approaches to implementing the DCC combined with ineffective integration in the passenger journey "compromises the success of this summer's air-travel restart and will undermine restoration of free movement across the EU", the associations argue.