London Heathrow airport is warning of the impact on freight trade from the continued travel restrictions after today disclosing that passenger numbers remained 87% down on pre-crisis levels in June.
The UK's biggest hub airport handled 956,689 passengers in June. While that marked the highest figure for the year so far – and a 40% increase on May – it was 87% down on the same month in 2019.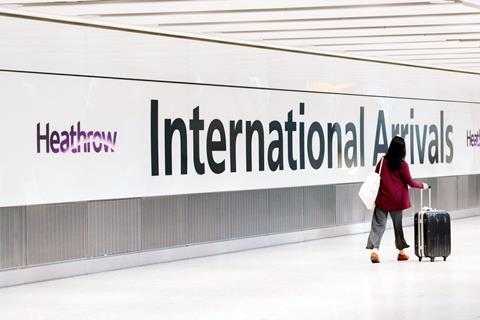 Heathrow handled just 3.9 million passenger across the first six months of the year, down 90% on the 38.8 million it handled in the first half of 2019.
The airport highlights the knock-on impact the low level of passenger flights is having on air freight.
"Both Schiphol and Frankfurt have surpassed their 2019 cargo volumes, growing by 14% and 9%, respectively, compared with 2019, whereas cargo tonnage at Heathrow, the UK's biggest port, is still down 16%," Heathrow says. "Almost all air cargo is carried in the hold of passenger planes, and UK travel restrictions are limiting trade compared with our EU rivals."
While the UK has taken the first steps in loosening travel restrictions with the implementation of its traffic light system, there remain relatively few countries and territories on its green list destinations which do not require quarantine. It will from 19 July allow quarantine-free travel to fully-vaccinated UK residents arriving back in England from amber list countries – a policy already adopted by many countries within the European Union.
Heathrow chief executive John Holland-Kaye says: "While it's fantastic news that some double-vaccinated passengers will no longer need to quarantine from amber countries, ministers need to extend this policy to US and EU nationals if they want to kick-start the economic recovery.
"These changes will be critical for exporters who are losing out to EU rivals and families who have been separated from loved ones."