SkyWest Airlines will receive $438 million in federal aid to fund salaries and benefits for workers while helping mainline carriers keep US cities connected during the coronavirus downturn.
The Utah-based regional carrier, which operates flights through codeshare arrangements with American Airlines, Delta Air Lines, United Airlines and Alaska Airlines, will accept a $337 million grant and a $101 million 10-year, low-interest unsecured loan from the US Department of the Treasury. The funds will be disbursed in four tranches through 30 September.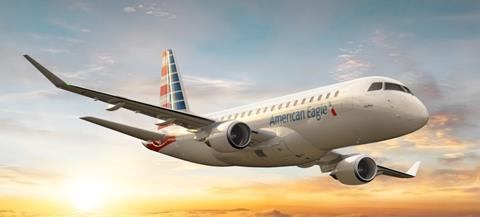 As a condition of the funding provided by the Coronavirus Aid, Relief, and Economic Security Act (CARES Act), SkyWest will give the Treasury warrants to purchase approximately 357,000 shares of non-voting stock. Treasury adjusted its conditions to ease the funding process after feedback from the Regional Airline Association but requires that all airlines that request $100 million or more in payroll support must enter into a loan or equity agreement in exchange.
Labour groups, including the Association of Flight Attendants-CWA and the Air Line Pilots Association, oppose requiring airlines to pay back part of their payroll support out of fear that it will add financial burdens to cash-strapped airlines.
Recipients of federal aid will have to meet conditions through 30 September, which include bans against furloughing workers, reducing pay and benefits, stock buybacks and dividend payments. To comply with these conditions, SkyWest has suspended future dividends and share repurchase activity.
The Utah-based airline signalled that it expects scheduled block hours for April to be down 50% and expects May to be down "slightly more".
SkyWest will report first quarter earnings on 7 May. The Utah-based carrier had $520 million in cash and marketable securities as of 31 December and $3 billion of debt.
The regional airline operates a fleet of nearly 500 aircraft, including 169 Embraer 175 aircraft and a range of Bombardier CRJs, Cirium fleets data shows. It has orders for 100 Mitsubishi M90 SpaceJet aircraft.