Wizz Air is further expanding its UK footprint by opening a base at Cardiff airport from which it will initially operate seven routes this summer.
The base, operated by its British subsidiary Wizz Air UK, is its fourth in the UK. Alongside its established operation at London Luton, Wizz has opened bases at London Gatwick and Doncaster Sheffield as it restores flights following the pandemic.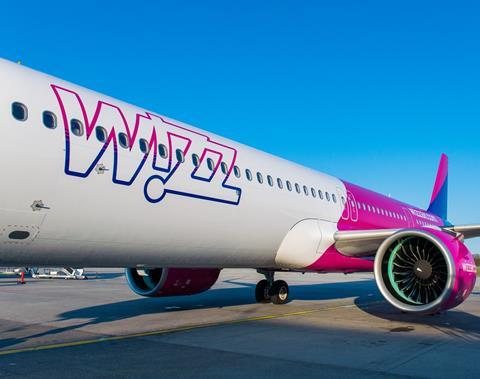 Wizz will operate year-round routes connecting Cardiff with holiday destinations Alicante, Faro, Larnaca and Tenerife, as well summer-only flights to Corfu, Heraklion and Palma de Mallorca. It also plans to serve Lanzarote and Sharm El-Sheikh next winter.
Wizz Air UK managing director Owain Jones says: "The creation of our fourth UK base at Cardiff Airport reflects Wizz Air's continued commitment to serving the UK market and generating economic growth.
"Expansion into Wales brings increased connectivity to the region, so passengers can take advantage of Wizz Air's ultra-low fares to travel to their favourite sunny holiday spots."
The new Wizz flights will begin in late March.
Wizz has been among the most aggressive in returning capacity and opening news bases since the crisis, but increased travel restrictions, including those in the UK, have forced it to cut back capacity again. In November, its passenger numbers tumbled 85% on the same month last year, as it operated about a fifth of 2019 levels of capacity.