Aeroflot has taken delivery of the first of 22 on-order Airbus A350-900s, which will be used to replace its A330 fleet.
The Russian flag carrier says it will receive 10 of the Rolls-Royce Trent XWB-powered twinjets this year. A fleet plan previously disclosed by Aeroflot indicates that all 22 aircraft are scheduled to be delivered by 2023.
Airbus had earller confirmed Aeroflot as a previously unidentified customer for eight A350s.
The Russian carrier originally committed in 2007 to 22 A350s, but subsequently cut eight A350-800s from the order. Airbus shelved the smallest variant of the A350-family and replaced it with the re-engined A330neo.
During the 2018 Farnborough air show, the airframer logged an undiclosed order for eight A350-900s. Airbus A350 product marketing manager Alexander Selyanko said during a briefing in Toulouse on 27 February that Aeroflot was behind that order and that all 22 aircraft would be A350-900s.
In addition to the first aircraft – registered VQ-BFY, and named after Russian composer Pyotr Tchaikovsky – a further four A350s for Aeroflot are in various assembly stages at Airbus's facility in Toulouse. A fifth is currently in the assembly line's station 40, where the wings, vertical and horizontal stabilisers, and landing gear are attached to the fuselage.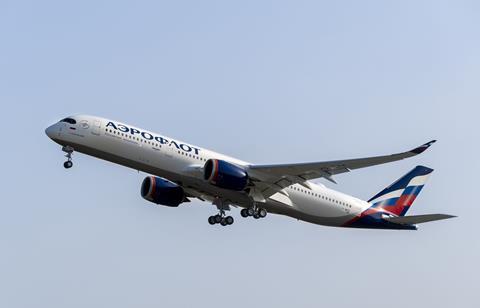 Aeroflot will deploy its A350s on flights from its Moscow base to Dubai, London, New York, Miami, Osaka, Singapore, and Beijing as well as other Chinese destinations, the carrier says.
The airline has configured the aircraft with 28 business, 24 premium economy and 264 economy seats. It is equipped with a Panasonic eX3 in-flight entertainment system, high-definition screens and wi-fi connectivity.
Deputy chief executive for strategy, service and marketing Andrey Panov describes the A350 as "a milestone" in Aeroflot's history.
Collins Aerospace is the supplier for the business seats on Aeroflot's A350s. The seat is different to new business seats that will be installed on Aeroflot's Boeing 777 under a cabin refurbishment programme set to begin later this year. Panov says, however, that passenger comfort levels on both long-haul jets will be "similar".
Cirium fleets data shows that Aeroflot's long-haul fleet comprises 14 A330-300s (including two in storage). five A330-200s, and 19 777-300ERs. The carrier another three 777-300ERs on order.
Aeroflot has leased three A350s via Irish-based lessor GTLK Europe. Roman Lyadov, the lessor's chief executive, says that it will be "happy to participate in the next tender process" to arrange leases for Aeroflot's A350 fleet.
Noting that Aeroflot is GTLK's largest customer, he says the airline's introduction of the A350 represents "a very important project for us".
This analysis is written by Michael Gubisch, part of Cirium's London-based reporting team, from Aeroflot's first A350-900 delivery ceremony in Toulouse.