Qantas has defended its safety record following a spate of mechanical issues on its Boeing 737s across three days, calling for calm and stressing that it was important "to put these things in context".
In a statement issued 20 January, the Australian carrier says diversions and turn-backs are "happening every day for a range of reasons".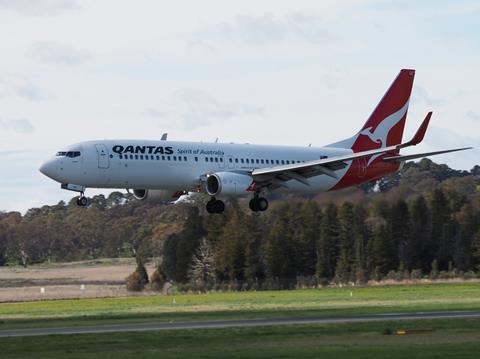 Qantas Domestic CEO Andrew David says: "It's important to put these things in context…[diversions and turn-backs] usually reflect an abundance of caution and that's why flying is such a safe way to travel."
Data from the Qantas Group, which also comprises low-cost unit Jetstar, shows that in a year, it averages about 60 turn-backs, out of about 10,000 turn-backs across the airline sector. The group does not disclose the reasons for the turn-backs.
David adds: "We understand that when you hear reports of planes turning around, it's concerning. But people can be assured that aviation is built on safeguards, and one of those safeguards is that if something isn't right, we take a conservative approach to the problem rather than pressing on."
His comments follow three turn-backs across three days involving its 737-800s. The latest incident took place on 20 January, where a 737 (VH-VXP, MSN33722) returned to Melbourne shortly after departing, after encountering a "minor engine problem".
The aircraft, which was delivered to Qantas in 2003, was operating flight QF430 to Sydney and had taken off around 09:41 local time, flight tracking data shows.
Qantas says the flight crew elected to return to Melbourne "as a precaution", and that the aircraft landed normally, with both engines still operational.
A day earlier, another 737-800 (VH-VZQ, MSN39357) was operating flight QF101 from Sydney to Nadi in Fiji, when it suffered a mechanical issue later identified as a faulty pitot tube heating heating.
Shortly after departing from Sydney, the flight crew received a faulty indicator relating to the heating sensors of the pitot tube, and turned the aircraft back to Sydney to have the device replaced.
On 18 January, a Qantas aircraft (VH-XZB, MSN39360) was flying from Auckland to Sydney when its number one engine malfunctioned, prompting the flight crew to initially declare a Mayday. 
The crew later downgraded the call to a PAN and continued to Sydney where it landed without incident.
The Australian Transport Safety Bureau has since opened an investigation into the incident, and is in the process of collecting evidence.
The 737-800 is the workhorse of Qantas's domestic fleet, with the airline operating 75 examples. The oldest examples in the fleet are about 21 years old, while the youngest 737s are around nine years old.
In 2022, the airline firmed up plans for a short-haul fleet renewal, which will see Airbus A220s and A321XLRs entering the fleet through the 2034.