Greek carrier Aegean Airlines' saw its earnings collapse by 64% in the first half and is warning that the "least predictable winter ever" lies ahead.
The airline made a net loss of €159 million ($185 million) in the January-June period, including a €68.5 million charge from ineffective hedging – "mainly due to the large portion of fuel-hedging contracts for the duration of 2020 being rendered ineffective by the significant reduction in flight activity".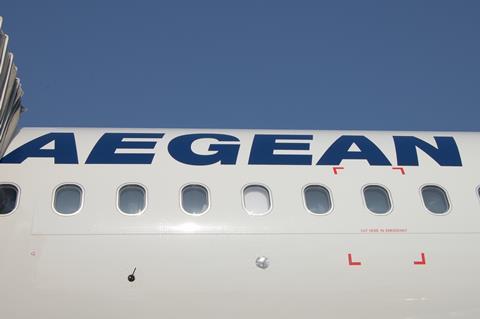 The number of flights operated by the carrier in the second quarter was down 82%, including falls of 95% and 92% in the months of April and May respectively, while passenger traffic fell 92%.
"The last seven months have been a constant strife for flexibility, resilience and efforts to develop our viability forward in what is certainly the most difficult period the global airline industry has ever faced," states Aegean chief executive Dimitris Gerogiannis. "Due to travel restrictions the second quarter of the year was a period with essentially zero activity. Our efforts were primarily directed towards cost management as well as establishing and implementing strict protocols for the safety of our passengers and crews."
By the end of June, with travel restrictions partially lifting, Aegean had begun to rebuild its activity with its network expanding to 84 destinations from Athens and 52 from its regional bases. But when Covid-19 cases began surging higher again in August, demand for air travel once again begin to fall back. "As a result, we operated less than 50% of our scheduled activity in August with particularly low load factors for the period," notes Gerogiannis.
"Looking forward, our industry and our company are faced with the most challenging and least predictable winter ever. We will continue our daily effort to adjust to the new travel requirements of our passengers, to further extend our 'crisis endurance runway' and to develop effective and flexible alternative scenarios for our product and network for 2021," he adds.
In line with much of the aviation industry, the carrier is urging governments to introduce pre-flight testing that would allow routes to reopen and limit quarantines.
The carrier has also deferred delivery of several new Airbus A320 and A321 aircraft from 2021 and 2022 until post-2023, although it still expects to receive four A321neos by April next year.
Cirium data shows that Aegean operated 120 daily flights on a seven-day average on 27 September, representing a steady decline across the month. On the same day a year earlier the carrier had operated 268 flights on a seven-day average.