Aer Lingus chief executive Sean Doyle has bemoaned the impact that delayed deliveries of Airbus single-aisle aircraft have had on the Irish flag carrier's expansion plans.
"I was counting on having four Airbus A321neo LR aircraft last summer," Doyle said at the Airline Economics Growth Frontiers conference in Dublin. "Instead, we had one. I still only have three – the fourth comes in February."
He adds: "We would have loved to have grown our capacity a bit more than we did, and unfortunately that delay in production has continued into 2020. We feel held back, we see opportunities being very credible [that we were not able to take advantage of]."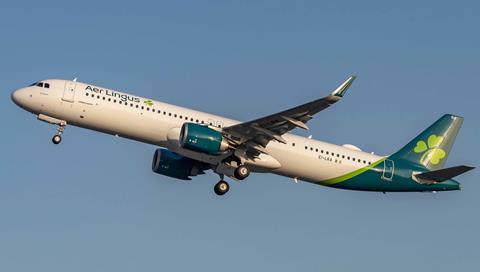 Aer Lingus has committed to using the A321LR on transatlantic routes to North America, as the first airline to use the aircraft for ETOPS flights. This fits in with the IAG-owned carrier's strategy of making Dublin a hub for travel between Europe and North America.
Following the recent inauguration of a route to Minneapolis, Doyle notes that Aer Lingus now has 14 North American destinations.
Looking ahead, Doyle says that the "forecast for 2020 looks promising". Passenger volumes are holding up and there is "positive" access to capital, he says.
Although the crisis surrounding the Boeing 737 Max – an aircraft that is not part of Aer Lingus's fleet – has shaken some faith in the industry, he is confident the sector will emerge "better and safer" as a result.