Air Mauritius has emerged from restructuring with what it describes as a stable footing after reducing its fleet and securing a $280 government million loan.
The carrier says the government's loan will provide long-term stability for the company as international air travel and tourism rebuilds following the Covid-19 crisis. It adds that the loan was "overwhelmingly supported" by Air Mauritius's creditors, without disclosing details of the financing.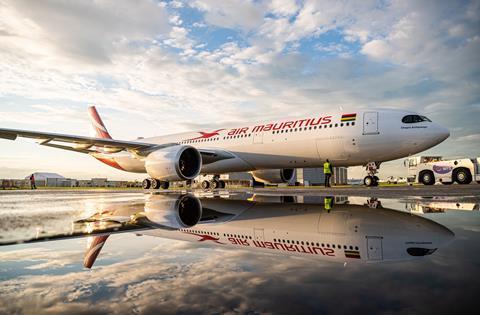 Ken Arian, chief executive of the airline's parent company Airports Holdings, states: "This new financial arrangement provides Air Mauritius with the stability to rebuild and play a central role in the government's economic development and tourism plans. It is a vote of confidence in our staff and provides them and our tourism industry with reassurance for the future."
Air Mauritius filed for voluntary administration in April 2020. At a watershed meeting on 28 September, creditors overwhelmingly voted to exit restructuring, and only a small minority of Class C creditors voted for liquidation, says the Port Louis-based airline.
It says passenger and cargo flights will operate between Mauritius and Paris, London, Johannesburg, Mumbai, Antananarivo and Reunion, with connecting services available globally. Additional capacity and international routes will be added to meet demand. Air Mauritius expects routes to Hong Kong, Kuala Lumpur and Perth to be introduced at a later date. Domestic services to and from Rodrigues will resume in November.
The African carrier's fleet has been reduced from 15 aircraft to nine, consisting of four Airbus A350-900s, two A330-900neos for international services, and three ATR 72-500s for domestic and regional operations.
Cirium fleets data shows that Air Mauritius operates two AerCap-owned A350s, one owned by Tokyo Century, and a fourth for which the airline itself is listed as manager. It has two A330-900s on lease from Air Lease, and has one self-managed ATR 72-500 and two on lease from Nordic Aviation Capital.
The airline notes that Mauritius is reopening its borders to fully vaccinated passengers from 1 October and, as a result, demand for flights is "soaring". The island nation's own vaccine rate is also high: 83% of adults are now double-jabbed.