AirAsia X's debt restructuring negotiations highlight the dilemma creditors face when deciding whether to stand by a struggling airline during the Covid-19 pandemic.
For lessors, they must decide whether it is worth supporting the carrier during these tough times with the view to possibly recouping a good portion of their rentals at an unspecified later date. AirAsia X operates an all-Airbus A330 fleet, an aircraft type that would be challenging to remarket or sell amid the pandemic.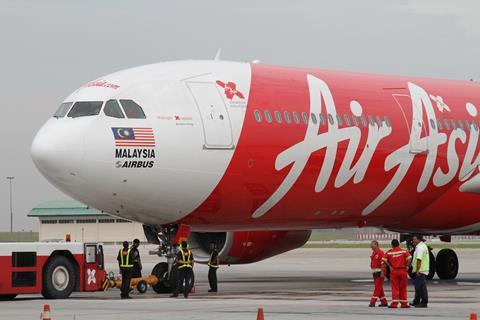 In the case of Malaysia Airports, it successfully challenged AirAsia X's classification of its creditors, a key tenet of its restructuring.
Feathers were ruffled when in October AirAsia X unveiled a plan to restructure over MYR60 billion ($15 billion) of debt into an "acknowledgement of indebtedness" for up to MYR200 million, across a single class of unsecured creditors.
Two of its creditors, BOC Aviation and Malaysia Airports (Sepang), took legal action to challenge AirAsia X's restructuring. In November, AirAsia X agreed to classify Malaysia Airports as a secured creditor, revising its debt restructuring to accommodate two classes of creditors.
The plan is far from finalised as the company has again asked Bursa Malaysia for an extension of deadline to submit the relevant applications, the latest by three months to 6 April.
Despite that, recent events suggest most of AirAsia X's creditors are willing to engage the long-haul, low-cost carrier group.
Court documents filed in January show that 15 out of 20 lessors were not in favour of AirAsia X liquidating, while OEMs Rolls-Royce and Airbus, as well as French lender BNP Paribas, were "not objecting" to the carrier's restructuring, according to a 14 January Reuters report.
Emails attached to those court documents, which have not been reviewed by Cirium, showed lessors indicating their willingness to continue discussions with the carrier and to seek more equitable terms and commercial arrangements. Aircastle and Macquarie Aircraft Leasing Services were among those lessors.
Concurrently, AirAsia X is looking to raise MYR500 million – MYR300 million from current shareholders and MYR200 million from new investors. The same report by Reuters states that ten Malaysian and Singaporean corporations and high-net-worth individuals have expressed interest, including AirAsia X's largest shareholder Tune Group, owned by AirAsia Group co-founders Tony Fernandes and Kamarudin Meranun.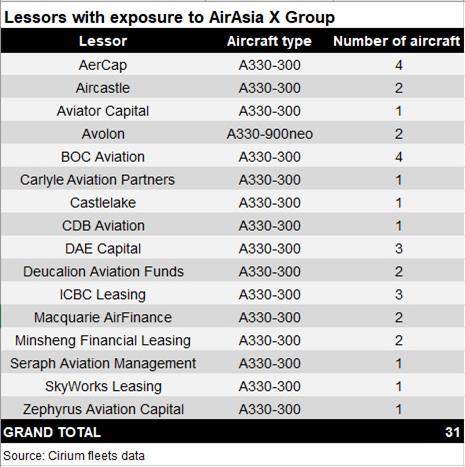 According to Cirium fleets data, Macquarie AirFinance and Aircastle each lease a pair of A330-300s to AirAsia X.
AerCap and BOC Aviation have the largest exposure by number of aircraft, four A330-300s each on lease to the carrier and its Thai affiliate Thai AirAsia X. Both lessors have filed claims in UK courts against AirAsia X in relation to aircraft leases.
A lessor with exposure to AirAsia X tells Cirium, "I think the team [at AirAsia X] are trying very, very hard to try to make their restructuring work and I think they face a number of challenges – some are perhaps self-inflicted as far as how they have constructed their restructuring plan."
The person adds that his company hopes the airline does not liquidate, although admits that if the airline does restructure and fails to secure more equity funding the whole process could "be for nothing".
Cirium has contacted AirAsia X, Malaysia Airports and Aircastle for comment. BOC Aviation, AerCap and Macquarie AirFinance declined to comment, citing ongoing legal proceedings.
Analysis by Naomi Neoh of Cirium, with additional reporting by Michael Allen