Allegiant Travel Company, the parent of ultra-low-cost carrier Allegiant Air posted a small profit in the fourth quarter of 2021, supported by more cost-conscious customers returning to travel.
The Las Vegas-based carrier on 2 February says it earned $10.7 million during the final three months of 2021, up from a $28.8 million loss in the same quarter in 2020. For the full year 2021, the company earned $152 million, up from a $184 million loss in 2020. In pre-pandemic 2019, the company had achieved a profit of $232 million.
Total revenue came in at $497 million, up from $246.6 million in the same final quarter in 2020, and 7.8% higher than the $461 million reported in pre-pandemic 2019. For the year, revenue was up 73% over 2020, at $1.7 billion. But that figure is still 7.2% lower than total full-year revenue two years ago.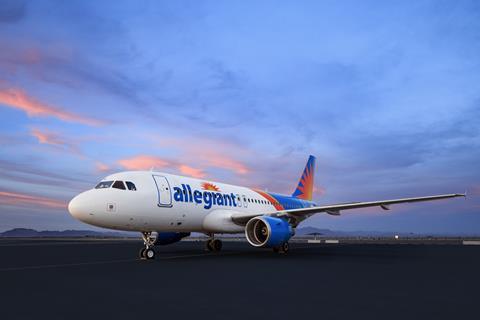 "2021 was a challenging year, yet we remained nimble and continued to learn and adapt," says chief executive Maurice Gallagher. "As we exited 2021, the operation was challenged by impacts from the Omicron variant. We saw unprecedented crew shortages due to Covid, resulting in cancelled flights during the peak holiday travel season and persisting throughout January."
The airline says it was forced to cancel 450 flights in the last 11 days of the year. Allegiant, like its US peers, suffered a high rate of employees calling in sick as the Omicron variant tore across the country. The absences, coupled with some weather-related issues caused "irregular operations expenses", to the tune of $23 million.
"It was a shock to the system," adds chief operations officer Scott Sheldon.
Gallagher says the company should return to "a more normalized state" by March, a time when many travellers are looking to take spring-break holidays to warmer climates. Executives add that judging by current booking trends, the peak spring break weeks "will look a lot like 2018 and 2019".
For the first quarter of 2022, the company expects revenue to rise between 5% and 9.5% against 2019, on capacity that it expects to be 19-23% higher than two years ago. The airline plans to end the quarter with 113 aircraft, and that number will rise to 127 by the end of the year.
Allegiant Air made headlines last month when it placed an order for 50 Boeing 737 Max aircraft and added options for an additional 50. The company said at the time that it will acquire both 737 Max 7s and 737 Max 8-200s – a high-density variant of the baseline Max 8. Deliveries are due to begin in 2023 and continue into 2024 and 2025.
The deal is a major win for Boeing and notable in that Allegiant has aligned itself with the US manufacturer. Currently, Allegiant Air flies only Airbus A320-family jets.
Allegiant says the transaction will "increase incremental route opportunities to 1,400, which represents more than ten years of growth".